Bodegas Gonzalez Byass – Tio Pepe Festival #111

González Byass: two centuries of experience
González Byass is a family winery founded in Jerez in 1835 and dedicated to the elaboration of wines and spirits. Tradition, sustainable development, maximum quality and wine tourism are the pillars of González Byass' work endorsed for almost two centuries of experience. Throughout the last decades, González Byass has incorporated wineries from emblematic areas that represent the oenological diversity of Spain.
González Byass completes its range of products with Chinchón de la Alcoholera anise, Granpecher and Granpomier fruit liqueurs and high-end spirits, including Nomad Outland Whisky, Druide vodka,The London No1 and Mom gins. It also distributes, exclusively in the national market, Deutz champagne; the exclusive Single Malt Whiskies The Dalmore and Jura, from Whyte & Mackay, and the aged Botran rums.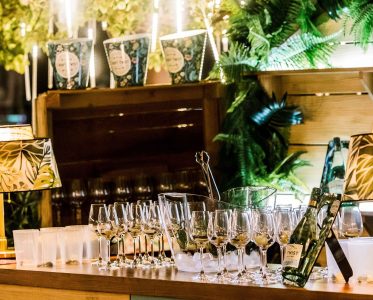 Tio Pepe Festival
The Festival has a special, different, international concept that serves to diversify the tourist destination of the province of Cádiz, providing an offer that attracts about 40 different media and more than 60,000 attendees from different provinces of Spain and international tourists. Culture, gastronomy, oenology and tourism in the unique environment of the TIO PEPE winery; spectacular wineries, radiant gardens, haunted courtyards and magical arbor-lined streets and many more activities.
Summer at the winery
Missions of the Festival: Become economic booster of Jerez and its surroundings, including the Sierra de Cádiz, in the months of July and August; attract quality tourism that seeks differentiation; help the destination increase stays and prices, ceasing to be the second option on the coast and helping the area, to be a reference as a destination in its own right.
Summer at the winery includes all the activities that take place in the TIO PEPE winery in the months of July and August: 
TIO PEPE FESTIVAL where you can live experiences in the winery and vineyard with tastings, visits and grape stomping, 

Hotel Bodega TIO PEPE – wine and gastronomy experiences during Michelin Star dinners at the restaurants in the winery, 

TIO PEPE Festival – music of different genres, 

SOLERA Y COMPAS – the best quality flamenco,

TIO PEPE Comedy – humor nights.
Tio Pepe Festival reaches its 9th edition in 2023, bringing culture closer through music, with national and international artists and with exclusive shows of its own production. Tío Pepe Festival is addressed to an audience that seeks uniqueness, quality and excellence.