10 Soghomon Teleryan, Araqs village, Armavir Region
+374 93123640 info@voskeniwines.com
The story of a family that defined the future of the wine
Voskeni Wines is located at Sardarapat, Ararat valley. It is a family owned and managed winery. The vineyard was founded by the family's forefather Smbat Mateossian, a successful businessman from Boston, who moved to Armenia in the early 1920-es. He dreamed of establishing his own winery. Unfortunately, Smbat was repressed by the communist regime, and his property was confiscated by the "bolsheviks" during Soviet times. In 2008 Smbat Mateossian's family, current owners of Voskeni Wines, returned to Armenia from Russia and managed to buy back the lands once owned by their great grandfather, with the historical vineyards. The indigenous Armenian grape varieties are grown there — Voskehat, Areni, Kakhet, Haghtanat. The revival of the vineyards and the winery made Smbat's dream of producing high quality wines come true.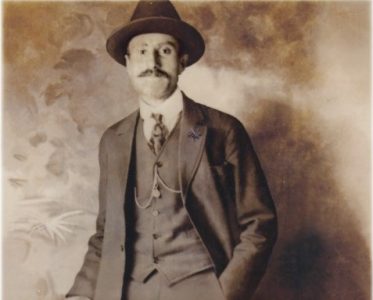 A rich mixture of terroir and traditions
Voskeni winery specializes in quality wines with unique production techniques. Nowadays, Voskeni Wines has a picturesque vineyard, a cozy and homey restaurant offering authentic Armenian cuisine, and a terrace opening to a breathtaking view over the legendary Mount Ararat and Mount Agarats. The diverse microclimate and the extraordinary terroir of Ararat valley create unique conditions for cultivating exquisite grape varieties and producing elegant wines reflecting the 6100-year old rich authentic wine making traditions.
Where the guests are welcomed warmly
The winemakers' family is always ready to welcome guests, who enjoy the beauty of the vineyards and the unique taste of Vosken wines, as well as the famous Armenian hospitality. Outstanding wines paired with exquisite Armenian cuisine, the stunning scenery and the beautiful vineyards running to the horizon — this is what Voskeni Wines is about. The winery which is only 1 hour drive from Yerevan, offers several options of tastings and tours, perfect both for individuals and for large groups, as well as families with children. The winery is pet friendly, meaning one doesn't have to leave the dog at home — or in a car. 
There are 3 types of tours available at Voskeni Wines:
Classic – 3 wines and light snacks

Wine Fun – 4 wines and lunch (with local organic food) 

Wine lovers – 5 wines, including premium wines, and barbecue lunch. 
Tour language: Armenian, Russian, English, German. Capacity: 150 people
Experiences: grape stomping with feet, wine blending, wine painting, lavash making, gourmet wine boutique.