Nova Street, 1-B, Oksamytne village, Bolgradsky District
+38 (067) 488-37-63 +38(050)333-64-80 7183842@ukr.net
A Legacy of Winemaking Excellence
The family estate winery was founded in 1998 by Valery Tintulov, one of the most reputable winemakers in Ukraine. Today, it is run by Mr. Tintulov's wife Tetyana and their children Kostiantyn and Yuriy. Villa Tinta is located in the territory where Count Davidov's chateau was located 120 years ago. The winery is a member of the Association of Vinegrowers and Winemakers "The Danube Bessarabia" and is part of "The Route of Wine and Taste of Ukrainian Bessarabia".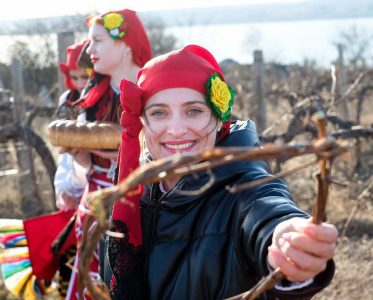 Crafting Quality Wines in the Valley of Lake Ialpug
Since 2017, the winery has been producing wines under the names: Villa Tinta (dry ordinary wines from local and European varieties), Tintarella (sparkling wines using the Charmat-Martinotti technology), and Tinta (semisweet blended wines). Villa Tinta owns 550 hectares of its own vineyards (and also processes grapes grown on the 600 hectares of its partners' vineyards) in the valley of Lake Ialpug.
Discover professional excellence
A unique terroir with a protected geographical name finds expression in wines from European varieties, as well as local ones: Odessa Black and Sukholimansky. The quality of wines, in addition to the valuable terroir, is ensured by the modern equipment and a high level of qualifications possessed by the winemakers; it should be emphasized that it is regularly confirmed at the professional competitions. The winery is open to receive guests (from 5 to 50 people) and calls its tasting "vertical", as it starts on the roof, then the guests review the production process, and thereupon, go down to the wine cellar and taste wines of different vintages.