Sasunik Village, Ashtarak, Aragatsotn Region
+374 15 500 800 info@vanardi.com
Winery and viticulture
Van Ardi is one of the first boutique wineries in Armenia. It is a family project launched 20 years ago when the founder and winemaker Varuzhan Mouradian fell in love with wine and there was no turning back.
We have a total of 70 hectares, 10 of which are planted (and we are currently planting 10 more). We are growing 5 varieties: Areni, Kakhet, Haghtanak, Syrah and Kangun. Our organic vineyards and minimal invasion winemaking help us manifest the pure qualities of our indigenous grape varieties. Then comes a touch of biodynamics. We believe there is more that can affect the quality and character of a wine than just the soil, water, and sun it is nourished with. We surround our vines and wine with love and music: they listen to classics, jazz, and Armenian music throughout the year.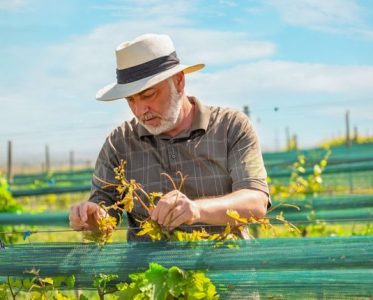 The Van Ardi terroir
The terrain at Van Ardi is endowed with rocky volcanic soils, rich in minerality and perfect for viticulture. The vineyards are sloped south-southeast, at an altitude of 1,050m above sea level. The microclimate is dry and windy, warm in the day and cool at night – the reason why we encounter little to no diseases in our vineyards. These foothills of mount Aragats have a historic calling for winemaking that dates back over 5000 years. Our passion to work with the land and to harness the vast potential of Armenian grape varieties has proved just as fruitful as the unique terroir of Sasunik.
Discovering Van Ardi
Van Ardi began producing wine in 2013, when the vines were 5 years old. At the time there weren't many small producers who were focusing on quality, and our entry into the market in 2014 really changed the image of winemaking in Armenia. Besides our own country, Van Ardi wines are available around the world in the USA, Canada, UK, France, Belgium, Sweden, Switzerland, The Netherlands, Czech Republic, Poland, and Lithuania.
We pay a lot of attention to the health and happiness of our grapes. Therefore, our employees are told not to speak angrily or use bad words around the vines or in the vineyard, and it is also the reason we built a bell tower on our estate. Van Ardi means "the Sun of Van", which is our way of paying tribute to and being inspired by Armenia's long winemaking history and the family's ancestry from Van. It is a passion project through which our dreams of music, art, culture, dance, and wine come together to spread the awareness of wine as a lifestyle, to reawaken the wine lover in every Armenian and the Armenian-wine lover in every traveler around the world. The goal of Van Ardi is to continue to put Armenia on the global wine map with unique, high-quality wines, and our vision is to develop wine culture in Armenia, through tours and events. Wine tours are an authentic way to discover a country's rural and inland destinations. There's a story behind our wines, and we love to share it. Van Ardi Estate winery is an important stop on the Armenian wine renaissance route, and opens doors for visitors to immerse themselves in wine culture. We offer visitors a range of wine tasting and spectacular private tour experiences.
Tour language: Armenian, English, Russian
Capacity: 200 people for events and 50 people for tours
Experiences: concerts, open-air movie nights, harvest fest and more.