The Worldwide œufs en meurette Championship #78
Rue de la Montagne, 21640 Vougeot
+333 806 28 284 thibaud.monfourny@closdevougeot.info
Oeufs en meurette: the emblematic dish of Burgundy
It is now an awaited event in the world of gastronomy: the Worldwide œufs en meurette Championship organized for the third consecutive year by the Château du Clos de Vougeot, the most emblematic place when it comes to this Burgundian recipe cooked through the world. Oeufs en meurette are elected the 5th best dish of all time by the Food and Wine Magazine. A true signature dish of the Château du Clos de Vougeot, oeufs en meurette – poached eggs in the red wine sauce – are served for each gala dinner organized within it, including the last dinner of Angela Merkel with French president Emmanuel Macron, the 3rd of November 2021. The resident chef of the Château – Alexandra Bouvret – and her brigade have developed a unique know-how in the preparation of this recipe and meet with chefs from Burgundy, France and abroad every year, at the beginning of October, at the Château du Clos de Vougeot to celebrate and enhance this emblematic dish.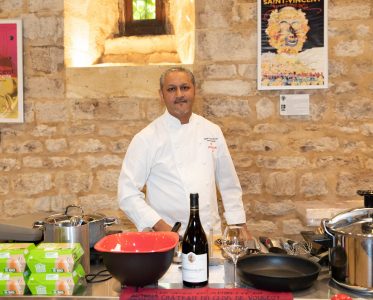 The third edition of the Championship 2021
The Château du Clos de Vougeot organized the third Worldwide œufs en meurette Championship in October, the 9th and 10th of 2021. The public could attend the tasting session where on the menu, there were œufs en meurette, a glass of Burgundy Tastevined wine accompanied by a gourmet dessert. During the amateur competition, the dish lovers were competing to create their best version of the oeufs en meurette. One recipe but many revisions of it! On Sunday the 10th, the competition started to take shape as 13 top chefs were competing for the title of Worldwide oeufs en meurette Championship (ranging from Burgundy to Washington D.C. which show the growing international reputation of the competition).
The gastronomic dinner: time to announce the winner!
The gastronomic dinner took place in the Grand Cellier of the Château du Clos de Vougeot. Chef Alexandra Bouvret presented a five-act menu in the theme of the chicken and the egg. The members of the jury awarded the title of Worldwide œufs en meurette Champion. Chaired by Guillaume Gomez (Meilleur Ouvrier de France and the President's personal spokesman for gastronomy, food and culinary arts), the jury with the task of evaluating the chefs' recipes was made up of 11 reputable personalities in the enogastronomic industry. Albert II, Prince of Monaco, appeared to be a fan of œufs en meurette, so he joined the competition as a member of the jury. Speeches and refrains to drink marked the evening. 
Photo: Bénédicte Maniere
You can check Chef's creations here.