Social Media: @girlmeetsglass
Who is this 'girl'?
Tanisha Townsend has cultivated a community of wine enthusiasts through an unyielding passion for oenology. As Chief Wine Officer of lifestyle agency Girl Meets Glass, Tanisha leads wine classes and pairing experiences in Paris and the regions beyond.
Tanisha aims to empower individuals with an advanced knowledge of wine & spirits in order to build confidence in their tastes and make choices as a better-informed consumer. A Girl Meets Glass wine tasting ensures that each guest completes a wine flight equipped with valuable information as well as fond memories of their experience.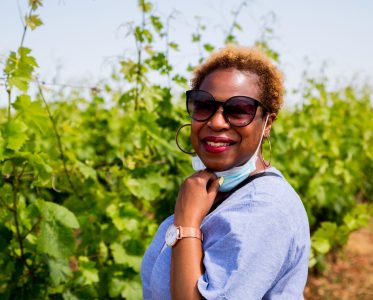 Addicted to Puglia: a marvelous Italian wine region
Southern Italy, Puglia to be precise. This region isn't as well known for tourism (I'm definitely hoping to change that) but its grapes are definitely popular among Italian wine aficionados. You know Primitivo, Nero d'Avola, and Negroamaro right? Well, you should also get to know Bombino Bianco, Bombino Nero and Fiano. We visited different wineries to understand and get to know the grapes, producers, and also foods, sights and sounds of this region. Being near the sea makes for some of the freshest seafood you'll ever taste. You can even enjoy an oceanside dinner and see the docked boats where your seafood was caught earlier in the day!
Podcast talks, sparkling wines and food pairing
A bit of a fun fact, a Hollywood celebrity has a connection to the Gioia del Colle region of Puglia! Marianna of Pietraventosa Winery shared an anecdote about this during our podcast session. I don't want to spoil it here though; you should listen to our episode to find out what it is. As for her wines made from the Primitivo and Negroamaro grapes, my favorite was the Volere Volare 100% soft and well structured, with aromas of spices and red fruits.
Sparkling wines that aren't Prosecco have a hard time in this region, but that didn't stop three friends from creating d'Arapri Winery. Now passed on to their children, I spoke with Anna d'Amico about the creation of their classic method Spumante made from Bombino Bianco and Pinot Nero grapes in San Severo, Italy.
Since one cannot live on wine alone, we must talk about food as well. Originally from Serbia, Natasha's been in Italy for over a decade. Natasha started her career as a Sommelier, now she produces organic preserves and spreads to pair with the wines of Southern Italy. Think artichoke to pair with the white Bambino Bianco and the carrot confiture (one of my personal faves) to pair with Primitivo.