Keeping his finger on the pulse of the wine industry
Cav. Subhash Arora is a prolific wine writer, author, journalist, international judge, speaker, consultant, educator and a wine club promoter of international repute. He is the Editor and major content provider of delWine. He also writes for several newspapers and magazines in India and abroad. He is an Advisor and Conference Chairman for Vinexpo India that debuted in India in December 2021 and will be organised next at Mumbai on 16-18 August, 2022.

Cav. Arora was knighted by the Italian President in 2009 and awarded the official title of Cavaliere for his meritorious service in building friendly ties between India and Italy through wine promotion and education. He founded Indian Wine Day in 2017 – now celebrated Pan India every 16 November with wineries, restaurants and wine clubs Pan India participating.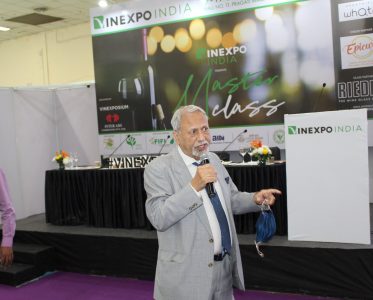 Indian Wine Academy
Private consultancy devoted to promotion of wine culture in India through various programmes including wine appreciation evenings, short term courses, wine trade shows, organising visits of foreign wine producers, helping in location of distributors, offering information on the market and the importers and Indian producers. The Academy was launched in 2003 by Cav. Subhash Arora, Founder President of Delhi Wine Club, assisted by Sourish Bhattacharyya, a food and wine journalist with 35 years of relevant experience behind him.
Spreading the word about the Indian wine industry
IWA launched delWine, the country's first online eNewsletter on wine, food business, and retail and hospitality sectors in April 2006. The complimentary India-centric weekly eNewsletter is sent to 33,000 subscribers in 71 countries – 845 issues have been sent till June 2020. It disseminates useful information about the Indian wine industry while briefing about the world markets too. Today, it is a benchmark for bold, objective and timely reporting about the Indian market. The subscribers include producers, food and wine importers and exporters, hospitality decision-makers, consumers, retail sector heads and hotel management institutes and students throughout the world. About two-thirds of the subscribers are spread across India.
IWA has organised several wine appreciation programmes throughout India and helped several wine shows in organising wine seminars. It organised highly successful Master classes for Sicilian wines in 5 cities on behalf of IRVOS, Sicily in January 2012 and 2013. IWA organised a Seminar on Bulgarian Wines in 2013 at their Embassy where Arora was also the keynote speaker. IWA collaborated regularly with ProChile in organizing an evening of Chilean wines and food for a decade. IWA has the unique distinction of making India participate as a Nation for the first time in Singapore at 'Wine for Asia' in 2005. It helps in organising visits of the right-profiled importers to foreign countries. Indian producers also participated and show-cased their wines for the first time at the World Wine Symposium in Villa d'Este in 2012 and repeated in 2013, thanks to IWA. We have been media partners of the World Bulk Wine Exhibition in Amsterdam for several years.