Strawberry Day #18
Republic of Moldova
Orhei
strada Eliberării 170/b
+373 685 00 555
Celebrate the Strawberry season
The Strawberry Day at Château Vartely is the most fragrant summer festival. It is the best occasion to bring up family and friends together when the Strawberry season comes out. The event helps its visitors discover its passion for wine and its beautiful story, right at his home, at Château Vartely.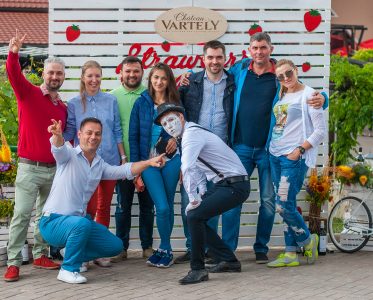 Marvellous location
A real château, in a fairy-tale setting, where the wine flows like at home, inspires you and tempts you in the most delicious sensations and feelings. It is the ideal place, the perfect opportunity to mark the new trends for the summer season in terms of wines and refreshing cocktails.
The first edition
The first edition was unique in its way for both Chateau Vartely and Moldova: based on the purchased ticket, the guests have benefited from an all-inclusive package on the territory of the winery which included the following: tour of the complex, free access to the territory, wine in abundance, strawberry goodies and many other tasty dishes. The little ones enjoyed special attention as well, being entertained by cheerful entertainers headed by Capsoonel. During the event, which was dedicated to strawberries and white and rose wines, over 250 kg of strawberries and about 500 bottles of wine were consumed. The Strawberry Day became a popular – and favourite for lots of visitors – entertainment for all subsequent years.