Sonal Holland Wine Academy #172
learn@sonalholland.com
Launch Yourself as a Wine Expert with Master of Wine Sonal Holland
The Academy, established in 2009 by India's first Master of Wine, Sonal Holland, sets the gold standard in the education of wines and beverages through the uncompromised delivery of global expertise and remains committed to the expansion of the burgeoning wine and beverage culture of the country. Our courses are designed for professionals in various stages of their careers, hospitality students, entrepreneurs and enthusiasts.
Today, Sonal Holland Wine Academy prides itself on being the country's leading online provider for beginner- to specialist-level courses on wines, enabling our participants to advance the knowledge, enjoyment and business of wine in India and around the world.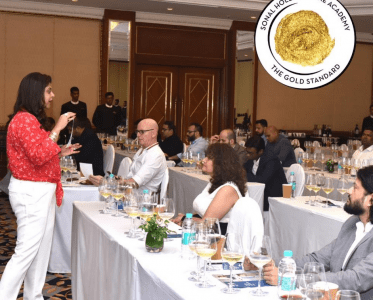 Turn your passion into your profession
In these finest-ever online courses with Master of Wine, Sonal Holland, you will acquire the power of knowledge, skills and confidence to convert your passion for the wine subject into a possible profession. Sharpen your knowledge, learn new skills, broaden your experience by taking our courses at the Sonal Holland Wine Academy and get ready to reinvent and launch your career as a wine professional.
Our courses
After a successful decade of delivering the globally sought-after WSET qualifications as their longest-serving approved program provider in India, in 2020, Sonal Holland Wine Academy launched its own online courses.
CERTIFIED Wine Pro
The Certified Wine Pro is a beginner to intermediate level online course comparable to any other globally-recognised qualification, designed and delivered by India's only Master of Wine, Sonal Holland. Get ready to launch your wine career, sharpen your wine knowledge and taste like a certified wine pro. Upon completion, you will receive a 'Certified Wine Pro' certificate from the Sonal Holland Wine Academy.
Wine-Making in India
Experience the magic of the vineyards, how grapes are picked, key steps in winemaking, the art of blending and aging of wines in barrels – all beautifully captured at an Indian winery. Learn from Sonal Holland, Master of Wine and discover what makes Indian wines unique. Upon completion, you will receive a 'Winemaking in India' certificate from the Sonal Holland Wine Academy.
Uncorking Success with Sonal Holland Master of Wine
"In Italy, they add work to wine and food. In France, they drink Champagne in victory and defeat. Wine, in many cultures, adorns a place of pride and identity. Wine is so much more than just a beverage. One must learn, to discover, to fall in love.
We are thrilled to launch the online courses at Sonal Holland Wine Academy and remain committed to offering the highest-quality and innovative education on wines and beverages. Our aim is to make on-demand online knowledge on wine easily accessible, affordable and enjoyable among Indians resident here and those living globally.
With wine's soaring popularity in India as a sophisticated and a lifestyle beverage, I welcome you to the inner circle and invite you to join me in a discovery of a whole new world of enhanced opportunities and elevated taste."
Raising a glass to your success.