Somló Juhfark Celebration #189
8478 Somlójenő, Somló hegy 1242
+36 70 663 6641
Tornai Winery: reviving traditions
Tornai Winery is the oldest continuously operating family estate on Somló Hill. Endre Tornai started his wine farm with 1.7 acres in 1946, and today we have grown to 172 acres. Our wines every year bring in gold medals from some of the world's biggest competitions. They have been awarded London's International Wine Challenge Trophy Award, the highest recognition of the world's most influential wine competition, four times since 2015.
The winery has a key role to play in reviving the Juhfark variety. In 1995, they purchased an old Juhfark plantation, where they carried out a variety selection with four years of work. From the vines that performed prominently in all four years, grafts were made. This is how the official Juhfark plantation (a state-recognized, uniform, variety-identical plantation, suitable for propagation) was established on Somló, and the variety was propagated from here.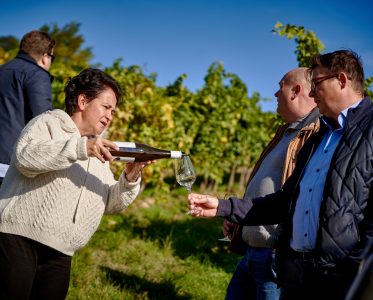 Celebrate Juhfark grape variety
Juhfark is one of the most exceptional, indigenous grape varieties in Hungary that, under Somló's soil and climatic conditions, gives globally unique wines. So the Somló wine producers gather each year and present their best Juhfark wines to the public. The event is a representative, largest-scale display of the variety: at the Tornai Winery's event hall, the winemakers themselves offer the wines, tell all relevant information about its making and characteristics and answer the guests' questions. It has been held every year since 2016, the seventh event will be held in October 2022.
Educational activities for participants
The tasting program is complemented by master classes, vineyard and cellar tours.
Further tastings:
Vineyard tour and tasting on the hill. Guests can taste the favourite wines of the wineries passed during the tour.
The Juhfark wine of Somló is a perfect combination of a variety and a terroir. The specialty of the hill is best shown by the Juhfark, and vice versa: the most characteristic features of this variety are best expressed here, on Somló. The result is a complex, mineral, and truly inimitable wine.
Juhfark wines are of long evolution with a marked character of minerality and high degree of acidity. You could say that it is a unique wealth that bathes the mouth with seductive caress presenting excellent concentration and structure.
Lectures with tastings:
Museum and cellar tours featuring the story of Somló.
The faces of the Juhfark: Tornai Vertical Juhfark Tasting with international award-winning wines.
Master classes: 
Somló Juhfark VS Great Mineral Wines of the World (Complexity, minerality, character. Comparison of different styles of Juhfark with the classics of the great wine regions of the world, by Attila Fiáth WSET)
Attractions and repulsions (The world of cheeses and Juhfark. Interactive gastro-tasting with Gabriella Mészáros WSET).