village Tsinandali, Telavi Municipality, Region Kakheti, Georgia
+995 599 15 25 85 shumi@shumi.ge
Shumi Wine School
The Shumi winery, which has a 20-year development history, has the best scientific and educational base. Today it is used as a material and technical base for listeners and consumers. In particular, the tourist infrastructure, including 38 locations, offers its customers a cognitive tour in the field of viticulture, winemaking and wine tourism.
From the very beginning of its existence, Shumi Winery has sought to educate young people and raise awareness. Therefore, in addition to commercial activities, it began charitable activities – helping younger generations of farmers and other interested people in the region and beyond to get an education. To this end, the idea of creating a school arose and on the base of the SHUMI winery, the Shumi Wine School was established. Today, the school has a 5-year history and offers students an educational program aimed at comprehensive study.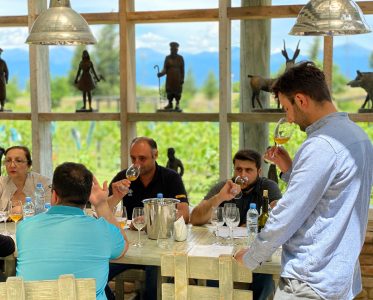 Objectives of the program
One of the Shumi Wine School's objectives is to teach students historical trends of spreading and development of grapevine and wine in the viticulture and winemaking world, modern and innovative methods of vineyard establishment and cultivation based on varietal biodiversity, and the full agrotechnological cycles of vineyard management. 
The program is unique and includes a complete curriculum, with both the technological part and the elements of planning and wine tourism management. Students get familiar with 525 Georgian local varieties and the oldest wine making technology – Kvevri (amber) wine. The program is implemented by experienced professionals working on our base and is carried out in both Georgian and English.
Local and international cooperation
The company and the school have many years of cooperation with local and international universities, experts, foreign students, etc. Here are just a few of them: Klaus Merkens, an international expert in biodynamic viticulture, who still holds seminars on biodynamic viticulture for our students; representatives of Supagro University, who visit the company as part of the Erasmus+ summer and autumn school under the leadership of Professor Patrice Lallelman, hold field seminars on viticulture, wine business and wine tourism.
Foreign (Japanese, French, Chinese) students who stay at the company's base for 3-4 months and get acquainted with Georgian viticulture and winemaking, its features, take part in various events.
2 years ago, in the frame of the collaboration with Plumpton College in the UK, SHUMI established a traditional Kvevri cellar-museum. The cellar presents not only the museum function, but also the educational one. Students have the opportunity to learn about the method of winemaking in Kvevri. In a year, three students from this college undergo additional internships in the company "Shumi".
Meet the Georgian wine route! Become a listener of our school!
Learn more and meet Georgia – the birthplace of vine and wine with 8,000 years of history!