village Tsinandali, Telavi Municipality, Region Kakheti, Georgia
+995 599 15 25 85 shumi@shumi.ge
Pioneering enotourism in the country
SHUMI WINERY is the first company in Georgia to initiate the development of enotourism in the wine regions of the country. Enotourism in Georgia is one of the most important areas and unites two sectors: winemaking and tourism.
SHUMI WINERY with its 25-year history in viticulture and winemaking, has the best scientific and educational base, which today is used as a material and technical base for scientists, students and consumers. And SHUMI Tourist Complex, which has no analogues in the world, both in infrastructure and in operation and includes 39 locations, offers its customers an informative tour about viticulture, winemaking and wine tourism. Nowhere else will you find so many examples of Georgian culture, viticulture and winemaking, collected in one space, as in SHUMI.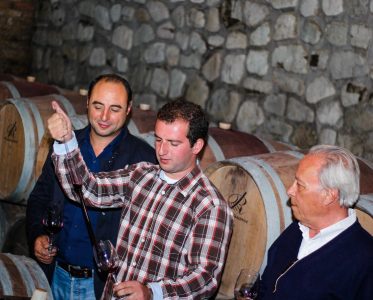 A unique facility for scientific research
The SHUMI Ampelographic Collection, which serves as a basis for scientific research, is included in the list of the FAO and has its own unique code. At this unique facility, Georgian, French, Italian and Japanese scientists conduct research, experimental work, seminars for students and employees of various educational institutions.
SHUMI Wine School
From the very beginning of its existence, SHUMI WINERY has sought to educate young people and improve their knowledge and awareness. In this regard, in addition to commercial activities, the Company began to engage in charity and set up its own wine school (SWS), where high school students, students and representatives of small and medium-sized enterprises and family farms in Georgia study for free, and where international students undergo their internships.
Today, the SHUMI Wine School has a 6-year history and offers students educational programs aimed at comprehensive development. The purpose of the program is to teach students historical trends in the spread and development of vines and wine in the World Viticulture and Winemaking, modern and innovative methods of laying and growing vineyards based on varietal biodiversity, complete agrotechnological cycles of vineyard management. 
Based on international rules and recommendations in the field of viticulture and oenology in the world, the program teaches the specifics of grape processing, modern innovative and traditional technologies for the production of wine and other alcoholic beverages of grape origin, trends in the field of vinification, sensory assessment based on international rules and practically debugged systems, the causes of their occurrence and methods of prevention; introduces current trends in the global wine tourism market, teaches the planning and development of tourism products – including "wine routes" – and their promotion taking into account world trends. 
The program is unique and includes a full range of education, both the technological part and elements of planning and management of wine tourism. 
The program is implemented by SHUMI's experienced specialists, invited teachers from Georgian and foreign countries and is conducted in both Georgian and English. 
Students undergo practical training directly on the material and technical base of the Winery.
SHUMI Wine School has many years of experience in cooperation with local and international universities, experts, foreign students, etc. Here are just a few: Klaus Merkens, an international expert in biodynamic viticulture, who conducts seminars on biodynamic viticulture with our students; representatives of the University of Supagro, who visit the company as part of the Summer and Autumn Erasmus School and under the guidance of Professor Patrice Lalleman, conduct field seminars on viticulture, wine business and wine tourism.
Foreign students from France, Great Britain, Japan, China, studying under the SHUMI Wine School program, live on the basis of the company for 3-4 months and during this time get acquainted with Georgian viticulture and winemaking, its specifics, and also take part in various events.
At Plumpton College, the leading winery institution in the UK, SHUMI has sponsored the creation of the Wine Museum, and also has become the organizer of the production of Qvevri wine, which performs not only a museum, but also an educational function: students have the opportunity to get acquainted with the Georgian ancient method of making wine in Qvevri. Every year, three students of this college undergo additional practice at SHUMI.