Koutsi, Nemea, Peloponnese
+306970963633 +302746020360 hospitality@semeliestate.gr

Destination "Semeli Estate"
Semeli Estate is one of the first wineries in Greece that puts an emphasis on the emerging wine-tourism sector. Its strategic location in the winemaking region of Nemea ensures a healthy vineyard ecosystem, while offering visitors stunning views in a peaceful and relaxing setting. 
Designed with respect for the natural environment and with an innovative layout, the modern and stylish Semeli winery blends perfectly with the beautiful surrounding landscape. Semeli Estate is located at an altitude of 600m on a hillslope covered with vineyards, one of Greece's most celebrated terroirs. Our privately-owned hillside vineyards span 8 hectares surrounding the winery.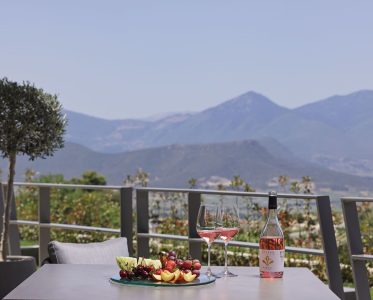 Wine tour & tasting programs
With an eye to the future . . . The sunny Mediterranean climate and the extraordinary terroir, combined with the expert craftsmanship of our winemakers and the successful blending of indigenous and international varieties, result in wines of distinct character that have earned the respect of experts and captured the hearts of wine lovers worldwide. Semeli's oenologists have designed Wine Tasting Programs for both friends and visitors by the name of…
#SEMELIWINEEXPERIENCE
…each with a promise of an inspired initiation into the world of wine. 
The winery tour takes you through the production area to acquaint you with the process of grape collection and vinification, the bottling area and finally to our impressive cellar, enabling you to explore the wine maturation magic world. 
Designed with respect for the natural environment and built to high energy efficiency standards, the Semeli winery and suites blend perfectly with the beautiful surrounding landscape. The large, single-vineyard estate, planted mainly with Agiorgitiko along with select international varieties, is teeming with lush gardens of roses, flowering shrubs, cypresses and olive trees. 
Its organic vegetable garden, lovingly tended by its caring staff without mechanical power, is always bursting with seasonal produce and fragrant herbs. Juicy cherry tomatoes, crispy cucumbers, zucchini and aubergines growing on hillsides redolent with the scents of basil, marjoram, rosemary, and thyme, offer our guests a taste of authentic Greece. 
Hit the wine road with Semeli
Semeli offers guests a variety of wine tasting options along with guided tours of the production, grape collection, vinification, and bottling areas, as well as its impressive cellar, where the aging process works its magic. Wine tourism programs are available daily, Monday to Sunday, except Tuesday. Please Note: Booking is mandatory before your visit. For security and children's safety, the estate is open to individuals over 12 years of age. To safeguard production and maintain the winery's rigorous standards, pets are not allowed on the premises.