Piazza Vittorio Emanuele II, 18, 15019 Strevil (AL), P. IVA 02208620068
+39 328 1186328 andreacosta@marencovini.com
Follow your dream
Everything here is imbued with love for a dream. The company's history began in 1925, when Michele Marenco decided to produce wine from his own vineyard in the heart of the Bagnario Valley (it was put on the list of the UNESCO World Heritage Site) – Strevi – an area that had a long tradition of Moscato production; here, this grape variety has a unique aroma and fine balance between sugar and acidity. Michele's son Giuseppe continued to "follow his father's dream": buying the best lands in Monferrato, and increasing the original holdings. In 1956, Giuseppe built his own winery in the center of Strevi, near the train station – to make it easier to ship the wine to his clients.
Nowadays, the winery is managed by Giuseppe's daughters: Michela, Patrizia, and Doretta, who personally supervise all stages of production – from grapes to glass, as well as Michela's husband and son – Giovanni Costa and Andrea Costa.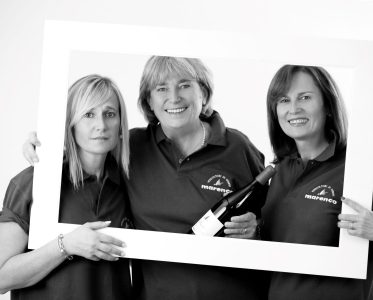 Wine impressions and tastings
Marenco welcomes tourists and wine lovers to its estates all year round. "We offer tours around vineyards and wineries. Our tours are available by reservation every day, including Sundays, in Italian or English". A visit to Marenco's cellar is a unique opportunity to touch the family's dream from the inside and see all processes pertaining to the mystery of winemaking. The winery's vineyards themselves will tell the story about sustainable production and respect for the environment. Among other things, you can reserve a picnic with a pre-selected menu. Each of the tours is accompanied by a tasting of wines.
Quality rather than profits. Never-ending path to perfection
Quality is Marenco's starting point, and the winery's priority. Both in the vineyards and in the cellar, the family strives for perfection.
The family owns 160 hectares of vineyards, continuing the tradition of producing quality wines that demonstrate the area's microclimate. Sparkling Marenco is a manifestation of the best tradition of Piemonte sparkling wines.
Moscato has been grown on Piemond's hills for hundreds of years, and the Marenco family has the opportunity to continue this tradition by improving and innovating specific cultivation methods in response to the current needs of the consumer who strives to enjoy excellent quality wines. 
In each bottle of Marenco, the winemakers strive to convey the bright aromas and all the beauty of Piemonte: rose and strawberry, fig and delicate apricot, notes of citrus and orange flowers… Their work is aimed at offering unique sensations to those who uncork one of our bottles. 
Continuous investment in research and development, improvement of agronomic and winemaking methods, taking into account climate change, as well as constant pursuit of excellence are the company's main priorities. 
"We draw our inspiration from our land. Even the company's logo – two wild ducks in flight – was inspired by our land, the lake at the Bassina Estate in Fontanile".