Le Bistrot du Sommelier #55
+33 (0)1 42 65 24 85
The harmony between wines and dishes
From the first days of opening, his restaurant has won the favor of the public, Philippe FAURE-BRAC welcomes his customers in a warm atmosphere, advises them with care and ensures the supply of the cellar. It is a wine restaurant, a place dedicated to the harmony of wines and dishes. It is at 97 Boulevard Haussmann that Philippe Faure-Brac wrote the first page in the history of the Bistrot du Sommelier and this had an impact on the whole French sommellerie world!
Philippe challenged himself being one of the first sommeliers to launch his own restaurant around wine, with thousands of wine references from all French and international vineyards on the menu. In 1987 Nadine Padovani Faure-Brac joined Philippe and both endeavored to develop their restaurant without neglecting their careers while still being present and active within the wine industry.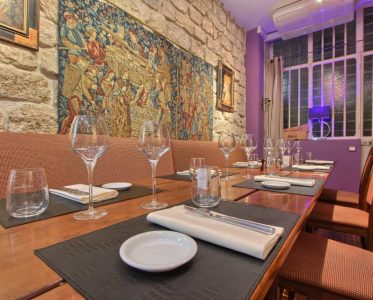 Where Philippe's heart belongs
Even though Philippe has a lot of other activities as an expert, judge, consultant and media presenter, Le Bistrot du Sommelier is really a place where his heart is. This is a showroom demonstrating his vision on wine culture, service and hospitality. They make this a point of attraction to many winemakers, sommeliers, where they are in a club of like minded people where they can freely share their passion. This is really the place of exchange of ideas and opinions. Place to gather together, to feel united, to meet new people.
The philosophy of working with wines
Here is what Philippe FAURE-BRAC said: "The Bistrot du Sommelier in Paris has been my home since 1984, when I won the competition for Best Young Sommelier in France. This is the main part of my professional activity and main job. I created and opened Bistrot de Sommelier almost 40 years ago. And since then I dedicate the majority of my time to make this place as it is today.  Its walls have witnessed so many hours of work, so many encounters and so many joys, sharing and discoveries.
However, we do not only receive wine specialists. We define our target customer not necessarily as a wine expert or wine specialist, our customers are mostly wine lovers. They just have to really enjoy and appreciate good wines, because Le Bistrot du Sommelier is a wine restaurant where wines occupy the central place.
Almost every Friday we facilitate an event Winemaker Friday with a special menu where each dish is paired with a selected cuvee from a winemaker. During these meals each guest has an opportunity to meet the winemaker and to have some time together, where they can share some good moments and discussions. Winemakers also explain the wines better and the food pairing choices they made. It is really open discussions involving lots of pleasant emotions, these events are very popular.
At Le Bistrot du Sommelier we are driven with this concept and an idea of transmitting knowledge and facilitating education of sommeliers. Around 100 sommeliers have already been trained here. We accept the best students in sommellerie to share and transmit our knowledge here during this training.
The cuisine here is mainly made to highlight the wines. Our chef, who specializes in French classical cuisine, has worked with us for 13 years. Our goal is to make quality food, but not to be eccentric. Regarding the wine list there are more than 1000 wine labels. We have a lot of French wines as we are a French restaurant firstly, but our card is very broad with wines from 35 countries around the world. We want to propose different choices to our customers. There are lots of wines from winemakers we are really proud to have in our wine list."