Arevadasht village, Armavir Region
+37494199478 karastour@karaswines.com
Tradition and origin
Sustainability, family, tradition and expertise come together at Karas Wines, an Armenian winery seated under the eternal gaze of Mount Ararat. Their mission is to produce world-class vintages from their own vineyards in Armavir, Armenia. Karas, the winery name, means "amphora" in Armenian. It is a sacred wine-making clay vessel used here for 6,000 years. That, combined with Armenia's ancient wine culture, inspires the winemakers to chart the future of the birthplace of wine while reclaiming the status of a producer of the world's most desired wines. 
Eduardo Eurnekian, and his niece, Juliana Del Aguila Eurnekian, have been making wines in Patagonia for more than a decade. Together, they've founded Karas Wines in the Armenian Armavir, boasting a unique terroir with volcanic soils. Juliana, a vintner and a sommelier, also engaged her mentor, Michel Roland. All three embarked on this special project of innovation and sustainability, believing that Karas will build bridges between Armenia and the rest of the world.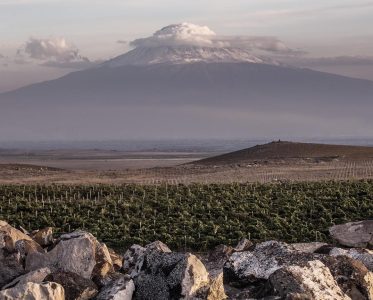 Terroir and historic mission
Imagine a snow-capped mountain that in its previous life as a volcano would unexpectedly release its wrath. Today, Mount Ararat's ancient rage has come to benefit Karas Wines. These black volcanic soils are perfect for growing healthy vines whose grapes have a fantastic character and produce a marked identity.
All around Armavir, one might see neglected karases in gardens or vineyards. One of the winery's missions is to recycle and restore these glorious clay wine-making gems, in order to ferment and age 21st-century wines. By respecting the past, Karas Winery wishes to give Armenian wines their future.
Tourist treasure for wine lovers
The history of wine in Armenia began when Noah landed on Mt. Ararat and planted a vine there. At the foothills of the Biblical Mount Ararat, the legend says Noah planted his vineyards and later became drunk from his wine. In 2007 the oldest winery in the world was discovered in Armenia, dating back 6200 years. The archaeologists found wine-making equipment such as fermentation vats, a wine press, storage jars, and pottery sherds.
Karas Wines is a benchmark for ancient winemaking traditions of this magnificent land, combined with innovative approaches to modern winemaking from all around the world. A visit to the winery is an exciting discovery of the evolution of Armenian winemaking in the cradle of viticulture! 
The journey begins with a guided tour through the winemaking facilities of Karas Wines, followed by a drive through the vineyards where one will immerse deeply in Ararat valley's millenia-old terroir. Prepare your senses to experience spectacular views paired with signature Karas wines that mark the key milestones of the winery's legacy. The Single Vineyard harvests indigenous grapes as well as Old World varieties from vineyards planted at the foot of Mount Ararat, then ages them in a clay karas. Reserve Blend draws from a sophisticated assortment of Old World grape varieties harvested from the Eurnekian Family Wine Estates' vineyards tucked away at the foot of Mount Ararat in Armenia's Armavir region. This family of blends is barrel aged in Armenian oak, ensuring exciting new levels of complexity. Not to be missed!
Tour language: Armenian, Russian, English, Spanish. Capacity: 25 people per time. Experience: Karas Experience; Karas Master Experience.