Via Guglielmo Marconi, 53 Residence Sorgente 20080 Milano 3 – Basiglio
brandevents@joannamiro.com
Promote Made in Italy wines
The Italian Taste Summit is an annual wine and gastronomic event presenting 50 Italian wineries and their terroirs to buyers and importers from different countries. ITS organizer Joanna Miro, Marketing Manager and CEO of the Wine Global Aspect Group, uses a strong strategy to promote Made in Italy wines abroad and to present the most interesting wineries and attractive regions to everyone interested in them.
The Italian Taste Summit is a strategic event conceived and implemented by a team of Italian and foreign export professionals with the aim of creating commercial links between operators from all over the world such as Japan, Hong Kong, USA, Mexico, Canada, Russia, Ukraine, UK, Switzerland and other countries.
As a rule, 50 wineries from among the most representative in Italy are presented at the event. Three days of face-to-face meetings are dedicated to unique varieties, technologies and terrain.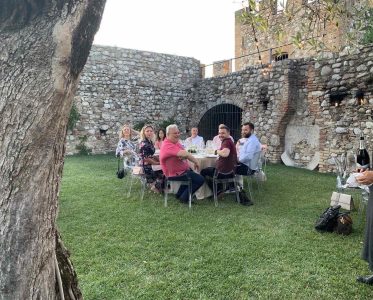 Meeting on the shores of Lake Garda
In 2021, despite a cascade of permanent quarantines, the organizing company Wine Global Aspect and the Miro & Co. agency led by CEO Joanna Miro managed to gather importers, buyers, retailers and journalists from all over the world on the shores of Lake Garda. Among the participating countries were Japan, USA, Mexico, Canada, Hong Kong, Ukraine, Great Britain, Russia, Switzerland, Germany and a number of other key markets.
Italy confidently holds the lead among wine-producing countries – both in terms of imports and wine tourism. A country with 526 appellations of origin, including 74 DOCG, 334 DOC and 118 IGT, deserves close scrutiny.
Dolce vita with a glass of Italian wine
To some extent, this worldwide recognition is also part of the efforts of the already traditional Italian Taste Summit event, within which winemakers from all regions of Italy can present new wines and old vintages to buyers and importers of key markets. And a special respect – to the thoughtful locations of these presentations, which create that special atmosphere of dolce vita, for which the sybarites of the whole world flock to Italy.
So, the reception of the first day in 2021 – a circular tasting followed by a candlelit dinner – took place on the hills above Lake Garda, surrounded by the ancient (15th century) walls of Rocca di Lonato, and the events of the second day – at Borgo La Caccia. During the circular tasting, guests could take a closer look at samples and chat with winery owners.
And when twilight descended on the hills of Lombardy and hundreds of candles were lit on the old walls of the fortress, the guests sat at round tables, picturesquely placed among the olive grove, and were able to taste the best of wines, accompanied by exquisite dishes from the local specialties.