41/5, 26 Komisarneri, Dilijan, Tavoush region
+374 94 603131 hovazwines@gmail.com

Sparkling wine experience hub
The aim of the HOVAZ wine rooms is to develop a new and unique sparkling wine production and tourism product through the establishment of a sparkling wine experience hub in Dilijan. The uniqueness of the project is a synergetic complex of the three main elements: sparkling wine production and high-quality wine, innovative solutions in presenting wine production including raising awareness about regional endemic grape varieties; and the professional sparkling wine and wine tasting service. For the first time in Armenia visitors of the HOVAZ wine rooms will be able to experience sparkling wine production steps, and blend different wines to make their unique wine. Moreover, the wine tastings, also with specialists from other wine companies to represent their wines, are inviting. The visitors can also order wines with meat and cheese snacks at the HOVAZ wine rooms wine bar and enjoy a nice atmosphere as well as Wine and Guitar Night which are usually organized at Hovaz Wine Rooms.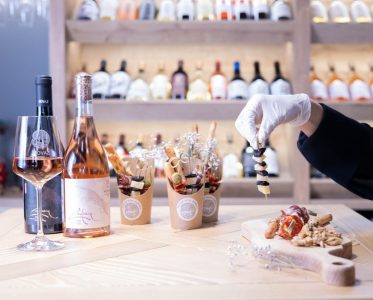 Wine experience and expertness with every step
In the Wine shop visitors can buy wines of the Hovaz Wines brand as well as other Armenian wines. The HOVAZ trademark symbolizes the idea of sustainable winemaking in Armenia. The winemakers, a group of young enthusiasts, – women-led brand pursues the sustainable development, aimed to preserve the land and the environment for the future generations. Thus one of the aspects of the HOVAZ's philosophy is to promote women's significant role in the Armenian wine industry thanks to the dedicated work of the team called the Wine Formula.
HOVAZ - the Leopard
The Hovas Wines are represented by Wine Formula LLC (was established in 2018) – the group of young enthusiasts working in the wine and viticulture sector in Armenia. To act within the company's philosophy of wildlife conservation and corporate social responsibility, they have established the first wine trademark HOVAZ (translated from Armenian as "leopard"). The story behind the name is the threatened/endangered species of Caucasian or Persian leopard.
As the leopard was lost and found in Armenia, winemaking is also experiencing a renaissance in Armenia. Thus, the Wine Formula team will not only create favorable conditions for development of their partners in viticulture and winemaking in Armenia but also contribute to wildlife preservation and importance of its protection.
As for the wines, HOVAZ rosé, red and red reserve wines are made from Armenian indigenous grape variety Areni grown in the Areni community, Vayots dzor region. 
HOVAZ white is produced from the Armenian grape variety Kangun grown in Voskehat community, Armavir region.