EVN Wine Academy's Enology and Wine Business Program #158
https://www.facebook.com/EVNwineacademy
+37 498 33 45 65
Viticulture and winemaking from scratch
The first of its kind in Armenia, the Enology and Wine Business academic program of EVN Wine Academy equips students with an in-depth professional knowledge in viticulture and winemaking from scratch: from vineyards to wine bottling. The EVN Wine Academy, in cooperation with Geisenheim University in Germany, offers one of the most successful wine education programs not only in Armenia, but also in the region. An 18-month certificate-based program provides a professional specialization with intensive on-the-job training in viticulture, winemaking, and wine business. The program is intended for newcomers and for those already involved in the industry. EVN students gain hands-on experience in many areas of the wine industry while learning from some of the most experienced professionals of the wine sector.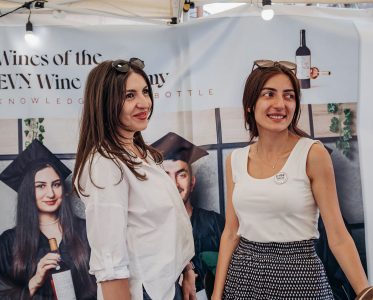 Helping Armenian wine industry to prosper
Over the past years, EVN's innovative Enology and Wine Business curriculum have become a significant factor in helping the wine industry to develop in Armenia. Our instructors are highly-qualified professionals in the wine industry with practical experience happy to share with the students. In addition, EVN Wine Academy often invites wine professionals from abroad to have guest lectures in various subjects. 
Students' live in EVN Wine Academy
Through the internship programs and many field trips to vineyards and wineries, our students become very competitive in the local and global job market. Students residing in Armenia are required to pass a 4-week internship in September-October period and apply their practical skills in winemaking at the experimental cellar, conduct different experiments and upon graduation have their own wine. Our students have already created three different wines from autochthonous Armenian grape varieties: Areni and Voskehat. Our students complete their wine chemistry and wine microbiology classes in a fully equipped wine chemistry lab of the EVN Wine Academy. The wine sensory evaluation classes are conducted in a fully equipped wine sensory lab and tasting hall. EVN Wine Academy is now establishing its own winery of 20,000 bottles of annual production capacity, as well as a vineyard of 3 hectares. 
In addition to the long-term program, EVN also offers short-term courses for professionals and wine enthusiasts with any background.