Château Vartely tourist complex #20
Republic of Moldova
Orhei
MD-3501 or. Orhei, str.Eliberării, 170/b
office@vartely.md
Opening the curtains
Château Vartely tourist complex opened cellars doors in 2008. It is arranged in a French Château style, which represents the traditions and architectural style of the North, Center, and South areas of Moldova. The 3 villas have a capacity of 14 rooms, each of them with a personal courtyard, with flowers and a terrace, where you can admire the wonderful landscapes with a morning coffee or a sunset.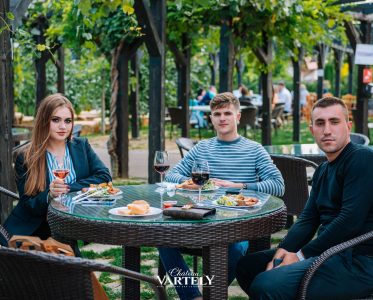 Wine tourism in practice
Our restaurant can serve up to 160 people. The cuisine is represented by local and European delicacies. Our tourist complex welcomes guests to enjoy wine tastings with food pairings and why not, stay overnight. On the territory of the winery, we offer excursions with a professional guide, through the production area.
Wine Blending
Château Vartely aims to teach its visitors while having fun. We have wine Tastings for beginners or professionals with food pairing. Also, Wine blending is designated to people of any background. The participants taste three wines, one by one, and analize their qualities: appearance, smell, taste. Each team receive 3 bottles full of wine, an empty bottle, white label, markers, test tube and funnel to create their own wine blend.
Subsequently, each team presents their wine created with the name, label and story behind it. Inspired by musical instruments, love and democracy, the teams have to work together actively, like "real families", creating a label and a name and making the wine a complete marketing. This is followed by blind tasting and appreciation of each wine, and at the end all the points are gathered to designate the best blend and bottle for prizes.