Bartolomeo Roberto Lepori #117
The art of wine: widen your horizons!
Bartolomeo Roberto Lepori is an International Wine, Food and Tourism Journalist, Sommelier, Wine and Spirits Educator, Judge, and Wine and Food Communications Specialist. Member of Enoclub Siena and speaker of the "Sangiovese Purosangue Event". Relator to the "Inycon Wine Festival" – Menfi (Sicily).
Roberto lives in Rome, but he is always travelling around the world to discover the "knowledge", the culture, and the traditions of the different countries. He states that "wine is an art, like poetry, painting, music, love, dance, singing, history, and astronomy; the language of wine a celestial sublimation of body, mind, spirit and soul".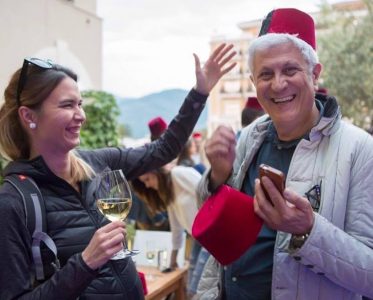 Educational and professional background
He graduated "cum laude" in law from Rome University, and he also graduated as Master Class Sommelier from the Italian Sommelier Association of Rome. He regularly writes on Italian wine & food, wine tourism in a number of Italian magazines and blogs, as well as on the wine competitions in which he judges. He has produced and interpreted some documentary films on tourism and travel. He teaches, as Master Class, pairing wine with food, and in international events, he holds seminars on Italian wine and he is relator in conferences and congress on tourism, wine & food. 
Project involvement: teaching, judging, travelling
Roberto is an International judge in wine: Citadelles du Vin Bordeaux in France; Mundus Vini in Germany; International Wine Challenge in England; International Wine Competition "Southern Russia" in Russia; Città del Vino "La Selezione del Sindaco" in Italy; Sangiovese Purosangue contest in Italy; Franciacorta in Villa in Italy; The Michelangelo Wine and Spirit Awards in South Africa; BeoWine in Serbia; Montevino Competition in Montenegro; RoWine in Romania; Balkan International Wine Competition in Bulgaria; Hvar Wine Festival in Croatia; Wine from Extreme Lands in Treviso (Italy), San Francisco (California), Kiev (Ucraina), Warsaw (Polonia), Shanghai (Cina), Kotor and Budva (Montenegro), Belgrade (Serbia) and some others more. 
As a specialist of Wine and Spirits, Roberto conducts around the world several seminars on sparkling wines, white wines, classic red wines in collaboration with some Agency and Consortium of wine (Kiev – Ukraine, Podgorica – Montenegro, Warsaw – Poland, San Francisco – California, Belgrade – Serbia, and others more) and, in particular, on "Wines from Extreme Lands"; wines from impervious lands made by heroic producers. A project that from many years accompanied Roberto around the world to make these niche wines known to demanding wine lovers of high quality.