45 A. Manukyan, Vagharshapat, Armavir marz
+374 93 956699 tours@alluria.wine
Rooted in the Armenian tradition
Inspired by the family traditions of several centuries, we created Alluria wine. Hot climate, sandy and clay soil result in a perfect harvest, which, combined with the love and warmth of our hearts, ensures the high quality and the unique taste of our wine. In historic documents the name of Alluria is referred to as a river and mountain in the Timar region of Van. River Alluria had flown near our ancestor's village Alyur.
Winemaking traditions of our family started a long time ago, from the days we were living in Alyur, where our family owned a big vineyard. We chose Alluria as the name for our wine in memory of our grandfathers, our history and our roots. The name of the village comes from the Alluria River, which flows around the village. Our logo consists of Latin letters M and W, a combination of which makes a beautiful Armenian pattern. We chose this logo to stress the Armenian origins of Alluria wines.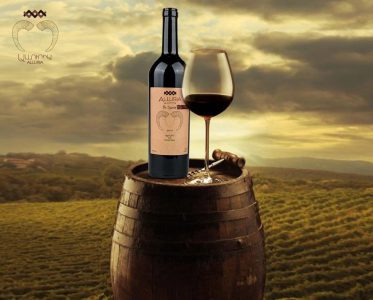 Authentic grapes
The winemakers of Alluria create their wines from local indigenous grape varieties grown in their own vineyards: Haghtanak, Karmrahyut, Khndoghni, and Voskehat. Haghtanak and Karmrahyut grow in the area where hot climate and sandy, clay soils provide perfect conditions for growing grapes. The best quality grapes are handpicked and processed in the cellar to make their unique red, white, and fortified wines.
Alluria: attitude and philosophy
Alluria vineyards are located in the city of Vagharshapat, st. Echmiadzin of Ararat Valley, Republic of Armenia. At Alluria Winery, located in Vagharshapat, the winemaking team produces only natural wines. Alluria Winery's philosophy of winemaking is the revival of their family's traditional methods, using the process of spontaneous fermentation, meaning that no commercial yeasts have been added, and no or very little sulfites have been used. The family-run winery loves to showcase their rich traditions through their winemaking and create unique wines that genuinely reflect their skills and the rich terroir of the Armavir region.
The winery also has a special storage area for their clients to store their wines for as long as they wish. This service is free of charge, and it is very popular among guests. Their collection of wines includes the red wines of Alluria Classic, Special, Reserve, Grand Reserve, Special Reserve, Elegance, and the white wine, Alluria the Beauty. The wines have a great natural, fruity taste, and the winery welcomes visitors to the estate for a wine tasting and other exciting activities. The natural beauty of the region makes the experience complete. This destination is definitely a unique experience for any wine lover.
Tour language: Armenian, Russian, English.
Capacity: 13 people.
Experiences: Grandma's homemade Armenian "Shor", barbeque and kyufta.