allison@pleasethepalate.com
Please The Palate: more than a job
Allison Levine is owner of Please The Palate, a boutique agency specializing in marketing and event planning for the wine and spirits industry. With over 20 years of experience in communications, marketing and event planning, Allison is passionate about the world around her and the diverse people in it. Allison holds a master's degree in International Communications with a focus on cross-cultural training from the American University School of International Service. She also holds a WSET Level 3 Certificate from the Wine & Spirits Education Trust (WSET), an Italian Wine Specialist Diploma from the North American Sommelier Association, a Certified Meeting Professional Certificate (CMP), and is BarSmarts Wired certified.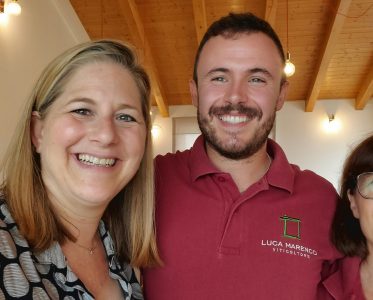 When the passion becomes your career
Prior to launching Please The Palate, Allison worked at The Tasting Panel Magazine/Blue Lifestyle, running the marketing and events division and focusing on organizing over 75 trade events each year across the United States. Always passionate about wine and serious about making her passion her career, she started out at LearnAboutWine where she built and ran the start-up wine education business, organizing classes and private events throughout Los Angeles.  After that, she was in the trenches as a sales rep at importer/distributor Chambers and Chambers where she learned about the wholesale aspect of the industry.
A freelance writer with an international background
As an industry expert, she works with wine regions around the world, organizing trade and media events around the United States. She has traveled extensively and has lived abroad in Italy, Spain and Mexico where she developed her passion for food and wine. Her work allows her to live life to the fullest and, as a freelance writer, Allison communicates her experiences into articles, as well as in her blog (pleasethepalate.com/blog). She is a regular contributor to the Napa Valley Register, Alcohol Professor, Monarch.wine, California Winery Advisor, and BIN (Beverage Industry News). Her work has also appeared in Wander with Wonder, Daily Ovation, ATOD Magazine, Wine Industry Advisor, Drizly, WineTouristMagazine, Thrillist, LA Weekly, Caviar Affair, LAPALME Magazine, FoodableTV, Drink Me Mag, WeSaidGoTravel.com, Wine Country This Week, SommJournal, and The Tasting Panel. Allison is the host of the podcast WineSoundtrack USA where she interviews winemakers and winery owners who share their stories, insights and some humorous anecdotes. Allison can also be found on YouTube where she regularly reviews wines in one-minute videos for the Wine Weirdos and hosts a weekly chat about wine on Crush On This. 
Allison sits on the Board of the non-profit Vintage Hollywood and is the Wine Committee Chair for its annual food and wine charity event.