info@eventtoura.org
+374 77 264595
A meeting point for wine lovers and winemakers
Our mission is to make Armenia one of the desired world tourist destinations. And we wholeheartedly believe that Armenian wine tourism is the tool to accomplish that mission. That is why we created a beautiful platform where wine and tourism are complimenting each other. That platform is Yerevan Wine Days.
The Yerevan Wine Days is an ideal meeting point for wine lovers and winemakers. Each year several central streets of Yerevan get filled with positive emotions, music, colorful lights, and laughter of slightly tipsy people. During these 3 days, more than 35000 local and tourist visitors have a chance to taste Armenian wines made of the local grapes and not only, and to accompany them with tasty bites.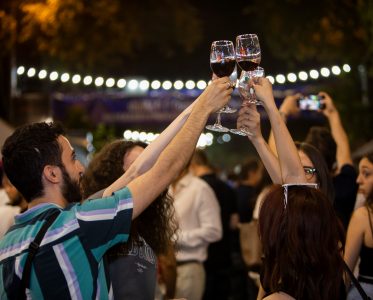 Opening Armenian wine to the world
There is an interesting fact about Yerevan Wine Days, the organizer had not planned it but it happened: Yerevan Wine Days became some kind of wine expo for the international visitors and even professional distributors. Thanks to the festival, every individual or corporate tourist that visits Armenia and gets familiar with Armenian wine, its taste, and history, tries to look for Armenian wine in their country, tells about it to their friends and partners, generates demand for the Armenian wine.
YereWineDays - in the heart of Yerevan
The Yerevan Wine Days is one of the largest-scale events in the region during which the visitor can:
Enjoy more than 500 wines from more than 50 Armenian producers and combine them with delicious snacks from more than 40 food pavilions in the gastro area of the festival.

Take part in the multilingual masterclasses, conducted by well-known wine experts and sommeliers.

Benefit from provided discounts and special offers in case you purchase the wine tasting package with wine-book. Moreover, the wine book contains information about Armenian winemakers, the best wine routes.

Enjoy different genres of live music at the two stages of the festival: classic, jazz, electro, pop and rock.
Taking into account a thousand reviews and sociological surveys the Yerevan Wine Days is a special festival not only for Yerevanians, participant companies, and wine specialists but also for foreign guests. Working even smarter we can make Armenia one of the favorite destinations for wine lovers of the world. And all that in the heart of Yerevan – around a glass of original Armenian wine.