1, Paruyr Sevak Str., Taperakan village
+374 94284745 info@tushpawines.com
In the heart of the famous Ararat Valley
Tushpa is a winery and an ancient wine cellar located in the heart of the famous Ararat Valley, in Taperakan village, in the countryside only 35 km west of downtown Yerevan. This is a family-owned estate with a cosy tasting room with a magnificent view of the Biblical Mount Ararat. The symbol of Tushpa was created by the late Kamo Nigarian, a talented Armenian artist. It is the image of a woman engaged in the winemaking process.
Tushpa owns 6 hectares of vines planted nearly 800 meters above sea level. The soil is clay-based and partially consists of sedimentary rocks. For the winemakers of Tushpa, it is fundamental to enhance our terroir's influence in the end product. Only by sharing these unique qualities will their wines be protected and justified.
Tushpa's beautiful land is naturally endowed with perfect soil and climate conditions, ideal for winemaking. Ararat Valley is a home to high quality indigenous grapes that produce unique wines. The winemakers of Tushpa create their wines with minimal intervention, bringing out a true expression of the grape's character.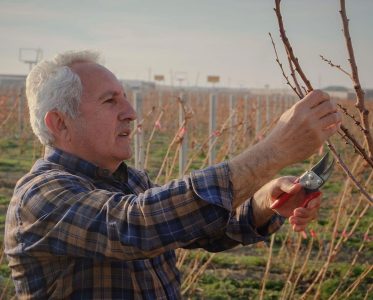 After tasting the Old and New Worlds, now it's time to taste Ancient World Wines
The origins of the local winemaking can be traced back to over 6000 years ago. Though Armenia has gone through many changes in those years, one thing has always remained: Armenian people's passion for wine and the art of making it. A few characteristics set Armenian wines apart from the Old and New worlds. One is a number of Armenia's indigenous varieties, which have roots older than those in France, creating an array of fantastic and unique grapes, all calling Armenia home. Tushpa brings together Armenia's native grapes and passionate winemaking in one of the world's most ancient terroirs, the Ararat Valley.
The art of wine and hospitality
Tushpa Winery is proud of the honor to have served their wine to Pope Francis. The team of the winery is happy for the apostolic blessing he bestowed on them, which enhanced their passion and responsibility for wine making. At Tushpa they strongly believe that for success one should just do what one loves and believes in, and it will come naturally.
Tushpa Wine Cellar is a perfect tourist spot. In a very warm and friendly atmosphere you can experience and learn about traditionally made Armenian wines in a relaxed, casual way. Interactive winery tours are offered at Tushpa wine tasting cellar room seven days a week, throughout the year.
Tushpa is more than just a tasting room. It's a step back in time to celebrate time-honoured traditions that will tempt your senses. Come here to explore the peace and harmony that goes into 56 each piece of lavash and every glass of Tushpa wines.
Tour languages: Armenian, Russian, English
Capacity: 100 people
Experiences: Lavash making ceremony in tonir, wine tasting and dinner (including assorted
Armenian cheese), ceremonies and events.