TrEno LMR (The Langhe Monferrato Roero Train) #4
info@trenolmr.com
TrEno: the unforgettable culture, food and wine journey
Travelling on a historical train is an amazing experience, and when this train is running along the famous Italian wineland, it's a real treasure. Such is TrEno, running via the vineyards of Langhe, Monferrato and Roero, the UNESCO heritage, located in Lower Piedmont. Amazing landscapes that can't be found anywhere else in the world, historical sites and ancient winemaking traditions of this region, as well as wonderful cuisine and world-famous wines, all contribute to the unforgettable experience appreciated by tourists from all over the world. The train consists of Centoporte carriages which operated in Italian Railways between 1928 and 1980s. All trains depart from Torino Porta Nuova, also allowing passengers to get on and off in Torino Lingotto. On some trains it is also possible to board in Bra, Alba, and Asti.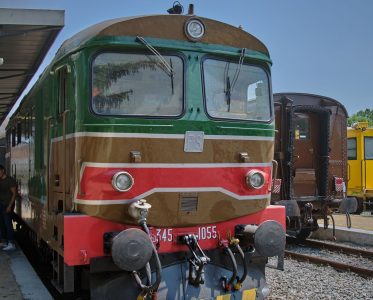 Travelling around Canelli
The mediaeval town of Canelli located in the province of Asti is famous for its ancient cellars, called Underground Cathedrals. These masterpieces of architecture and enological engineering preserve millions of bottles of wines left to age at a constant temperature of 12-14 C. Experienced guides will tell you the story of the genius and passion of those who built these cellars, and will let you taste their extraordinary wines. The Castle of Canelli was built in the 11th century. It is surrounded by beautiful gardens which are open to the TrEno tourists.
Food and wine experience
Canelli is the center of one of the most important wine areas in the world. Nowadays, 1236 unique vineyards dot this magnificent land. Its economy is based on the processing of Spumante and Moscato wines, as well as tourism. Canelli is well-known all over the world for its wines and winemaking traditions demonstrated by many famous companies like Bosca, Coppo, Contratto, Gancia and the Bocchino distillery. Everything here is about the wine, in particular the Moscato d'Asti DOCG which represents the classic oenological tradition of this land, and the Barbera d'Asti DOC, one of the greatest red wines of Piedmont.
In addition to the wines, these extraordinary lands present an equally rich local gastronomic offer: from meat, which can be eaten raw, to hand-made pasta and infinite varieties of cheese, tome and robiola, from fresh and aromatic vegetables to slowly-cooked braised meat, all topped with sophisticated desserts. 
Tourists are recommended to book the full wine-and-dine experience, giving them a chance to eat at the most authentic and classy restaurants – Ristorante Grappolo d'Oro, Osteria dei Meravigliati, Ristorante 'n Ca' 'd Basan. These venues serve typical local dishes, with a rich menu consisting of mixed Piedmontese antipasti, a traditional first course, a main course with a side dish, a typical dessert, all of those accompanied by a glass of Barbera d'Asti DOCG and a glass of Moscato d'Asti DOCG Canelli. They say that a good enogastronomic experience is the best way to get familiar with the land and its traditions. The TrEno LMR journey is a perfect way to connect with the beautiful heart of Lower Piedmont. Enjoy the ride!