The Black Sea Craft Winemakers' Association #206
vinoroby.prichernomorya@gmail.com
United for the common goal
In 2019, small winemakers from Mykolaiv, Kherson, and Odessa Regions got officially united into the Black Sea Craft Winemakers' Association. 
The purpose of the Association is to protect the interests of small businesses, popularize craft winemaking, hold festivals, and register Geographical Indications. In addition to ensuring that the Ukrainian consumers have the possibility of drinking high-quality natural Ukrainian wines – this is precisely why the Association is doing everything possible to get the best grape harvests in the south of Ukraine. 
Currently, the Black Sea Craft Winemakers' Association has more than ten members:
Mykolaiv Region: SliVino Village (Slivino village), Beykush Winery (Ochakiv district, Chernomorka village), Home Wine from Boris (Mykolaiv), Ankossi Winery (Nova Odessa), Olvio Nuvo (Parutino village ), Babchuk Winery (Yuzhnoukrainsk), III Syzons (Mykolaiv), Falcon Winery (Halitsynovo village). 
Kherson Region: Hand Made Wine (Holoprystan district, Prymorske village), sommelier and winemaker Olha Kashchenko.
Odessa Region: Vynograd Odesa (Odessa), Frumushika-Nova, winemaker Eduard Horodetsky.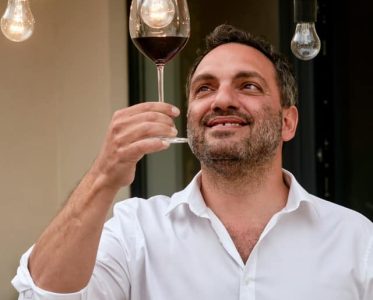 The war and the wine
Since the beginning of the war, the enemy's missiles have been hitting SliVino Village, but work has  not stopped, which means that the wine will be produced. The 2022 vintage from Olvio Nuvo may also have gunpowder notes – after the beginning of the Russian aggression, the winery found itself on the front line. One way or another, all of the Association's winemakers now know what it feels like to be a target, but as you know, there is strength in unity. Despite the fact that the original goal of the Association consisted in creating the best wines from the best grapes, now, one more goal has been added – the most important one – to stick together, to survive and win, because a single twig breaks, but the bundle of twigs is strong. 
The best wines from the best vineyards
Wine is an amazing thing, and winemakers are special people – it seems that they are blessed by the heavens. It is difficult to overestimate their work. Having touched the vine once, they manage with the lapse of time to make aromatic, bright, juicy, light, tart, sweet, and sparkling wines filled with incredible aromas, shades, and semitones… Wines that gain awards at the world and domestic wine competitions and tastings. The Association's winemakers have more than one honorary award in their collection.
At the Uwines Awards, SliVino Village won a silver medal for Cabernet 2017 and two bronze medals for Chardonnay 2018 and Riesling 2018. Decanter World Wine Awards-2021 honored Beykush Winery with nine medals – two silver and four bronze, and at Decanter World Wine Awards-2022, this winery received two silver awards for its Apbina and Chardonnay-Riesling wines. Falcon Winery received two silver medals for Merlot and Solaris at the Odessa Wine & Spirit Awards. At Odessa Wine Week-2021, Frumushika-Nova received silver for Sukholimansky 2020.
Certainly, these are far from all of the Association's winemakers' achievements, and, undoubtedly, not the last ones. However, these are not the awards that are crucial, but the wine itself – a gift of the earth, and a result of painstaking work of the hardworking people. The wine that you are eager to enjoy while forgetting about all worries. One cannot but agree with the words of the Association's member Eduard Horodetsky: "When the wine is poured into glasses, one should start drinking it, rather than talking about it!"