Tanmay Rathod CSW FWS #183
tanmayrathod218@gmail.com
Young, motivated and passionate sommelier
Tanmay Rathod is a Founder Scholar at the Gerard Basset Foundation, French Wine Scholar with the Wine Scholar Guild (93% highest honours), Certified Specialist of Wine with the Society of Wine Educators (97% first class distinction), Bordeaux Mentor Week mentee to Jane Anson (as featured in Forbes) and Global Ambassador for World Chardonnay Day (21st May each year). Tanmay is a Head Sommelier and Restaurant Manager at Hotel Les Falaises in Cahors (Summer Season). There, he is responsible for managing the restaurant during the Summer season and also training the new apprentices from the Hotel Management Schools each year. In the winter season, Tanmay works as Chef de Rang at 5-star Hotel Annapurna, Courchevel 1850.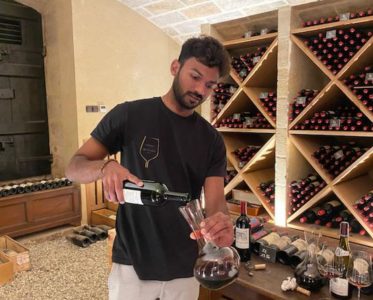 Networking for inspiration
Attending the exclusive Club d'Vin's Rare Wine & NFTs launch event in Place de la Bourse, Bordeaux provided Tanmay with the opportunity to meet for the first time Jane Anson, Dave Garrett and Jana Kreilein (@the.wine.girl was his original Instagram inspiration). Club d'Vin is the world's premier NFT wine club and is a community built around authentic experiences in collectible and investment-grade wines.
His №1 project and its benefits
The global exposure that Tanmay received following his participation in Jane Anson's Bordeaux Mentor Week has been immense, with the feature in Forbes encompassing a readership of over 6 million people worldwide:
'Tanmay Rathod from Gujarat, India, visited France in 2016 and tasted Malbec for the first time. Working in a hotel, [he] received a scholarship to learn about French wine remotely. 'I learned book knowledge. But here, we did the harvest. Now I will go into wine tourism and move with my passion, increasing the wine portfolio in India.' [Tom Mullen, Forbes].
Bordeaux Mentor Week has also been featured in Harpers Wine, Wine Industry Advisor, Vino Joy News, Wine Business and Sommelier Business and extensively across social media, with a total of 2.1 million results on Google to date. The experience has greatly expanded his network of contacts across the wine trade and has opened up a range of exciting new job opportunities for him in Bordeaux.
In summary, Tanmay feels that he has a combination of the natural skills, personality and enthusiasm to become a true Gerard Basset Ambassador for wine travel to Southwest France and the Alps and would welcome the opportunity to demonstrate this more fully and to deepen his knowledge of the wines of the region.
As Gerard Basset once said: "A sommelier is not just someone who knows wine, but someone who can help others understand and appreciate it."
Moving from his homeland in India to live and work in France has enabled Tanmay to become far more closely acquainted with terroir, traditions, the language (he is now trilingual) and French wine culture and this has certainly spurred on his intense passion to forge a lifelong career dedicated to wine, just as Gerard did.