One wine personality - multiple wine projects
Tania Olevska is a wine and food influencer, blogger, and journalist, member of the Association of Sommeliers of Ukraine, Founder of wine and gastronomic tours "Friends Wine Travel", founder of blind wines tasting project "Kyiv Wine Cup", and brand ambassador for the restaurant "Hlek – Modern Kyiv Cuisine".
Her professional wine journey started 4 years ago. She was so excited to discover the wine world! First, she finished Goodwine school, then the WIN-WIN course by Oleg Kravchenko, the best sommelier in Ukraine 2011, and finally, Course in Sensory analyses at Odesa Institute of Food Technology. Over 4 years, she tasted many wines, visited local and international wine and food events, and held her own wine tastings and tours. Tania became a judge for Wines and Spirits Awards Ukraine and Wine Guide by Reikartz. As a wine journalist, she writes articles for her social media and for one of the biggest online platforms "Posteat".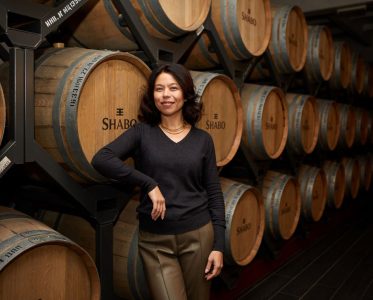 Wine and travel - passions of her life
Traveling and wine are Tania's passions, so she decided to combine them. Thanks to such a wonderful country – Ukraine – for having so many talented and hospitable winemakers, the "Friends Wine Travel" journey started. With her clients, Tanian visited 30+ Ukrainian wineries, went to Europe, and is going to discover British wineries in 2023. She works up and implements all wine and gastronomic tours by herself with her wonderful partners all over the world. She organizes small group tours, private and corporate tours, and wine tastings. 
Bringing sparkling emotions to her clients
Tania's initial and favorite destination is Ukraine. She admires its winemakers! The potential of the country is huge. There are so many wonderful places to be discovered: 
Stunning Carpathian mountains and incredible vineyards on the hills, local cuisine with forest mushrooms, and Hungarian and Austrian grape varieties that are the peculiarities of the region.

The Bessarabia region extends through Moldova as well and is at one latitude with Bordeaux and Piedmont, having the biggest and very beautiful freshwater lake Yalpug. The local cuisine is delicious and perfectly matches smooth and mild wines from this region. "Ukrainian Venice" Vilkovo nature park, where we take a boat to enjoy the wild birds park and visit the "Zero kilometer". 

Southern regions are the biggest ones with ancient chateaux, modern wineries, organic vineyards, deepest cellars in catacombs, an oyster farm, and many more interesting activities.

Central regions with great terroirs and stunning views of "Podil Tovtry" (cliffs), cave monasteries, and craft wineries.

Northern region's wineries are heroes because of colder climate challenges, so they invented their own ways to grow grapes. Here we have one of the biggest and best quality buffalo farms, snail farms, and black caviar manufacturers.

Eastern regions have small craft wineries and the biggest sparkling wines traditional method factories in Eastern Europe.
The infrastructure is quite good all over wine routes: 4 and 5-star hotels, restaurants, petrol stations, boat services (Tania offers her co-travelers a boat trip when the weather conditions are appropriate). Local cheeses and charcuterie are produced all over Ukraine. Each region has its own bread and specialties. Welcome to Ukraine!