Keeping his finger on the pulse of the wine industry
Cav. Subhash Arora is a prolific wine writer, author, journalist, international judge, speaker, consultant, educator and a wine club promoter of international repute. He is the Editor and major content provider of delWine. He has mailed 903 issues of delwine.com to 33,000 subscribers in 71 countries.
Cav. Subhash Arora was knighted by the Italian President in 2009 and awarded the official title of Cavaliere for his meritorious service in building friendly ties between India and Italy through wine promotion and education. He is an Advisor and Conference Chairman for Vinexpo India that debuted in India in December 2021 and will be organised next at Mumbai on 16-18 August, 2022.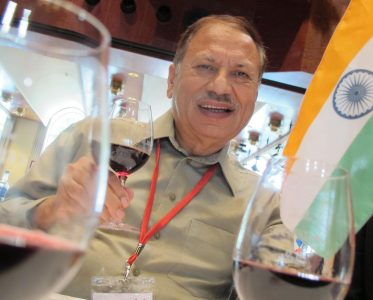 Avid supporter of the Indian wine
He has addressed several delegations and groups of interested producers in Italy, Spain, Chile and Napa. He addressed the producers of British Columbia in Canada through video conferencing in 2013 and helped them launch an export programme to India. Under the leadership of Cav. Arora, the Delhi Wine Club, he founded in 2002, successfully organized 300 events till July, 2020. He founded Indian Wine Day in 2017 – now celebrated Pan India every 16 November with wineries, restaurants and wine clubs Pan India participating.

Awarded for his contribution to promote Indian wines
In the first-ever survey conducted by Wine Business International, Cav. Subhash Arora was voted the best wine journalist of India in 2006. He was nominated for the 'Best Foreign Wine Journalist Award' by the Grandi Cru d'Italia in 2010, 2011, 2012 and 2013.

He also co-authored the Italian Wine Guide 2006, the first book of its kind in India. He was the first-ever Indian to be awarded the prestigious OIV Merit Award at the 34th International Conference on Vines and Wines in Porto, Portugal on June 24, 2011 for his outstanding service to the vine and wine industry globally. Earlier, as a catalyst he had helped facilitate India's entry into OIV as a full member in record time.
Cav. Arora promotes women joining the world of Indian wine and recognises 'Top Ten Indian Women of Wine (WoW)' Award for women since 2013. DelWine also features young women winemakers under 40.
He has been associated with the Indo-Italian Chamber of Commerce & Industry in conducting the First level of wine courses introduced as a part of the global strategy, as a faculty member. He also conducts Masterclasses for them regularly across India. He also accompanied members of the Italics Wine Club to Vinitaly 2018.