India's Only Master of Wine
Master of Wine, Sonal Holland is India's most accomplished wine professional. The first Indian to be conferred with the prestigious global title, she has won numerous awards in her incredible journey to become the first and only Master of Wine in a nation of over one billion people.
Sonal is the Founder Director at Vine2Wine, purveyors of modern and sophisticated wine retail stores across the country. Her entrepreneurial ventures also include the SoHo Wine Club, where Sonal and her team design and curate exceptionally bespoke food and wine experiences for senior corporate and the trade. A certified wine educator, her eponymous Sonal Holland Wine Academy founded in 2009, has established itself as India's foremost institution providing world-class education of wines and beverages through online and WSET certified classroom trainings.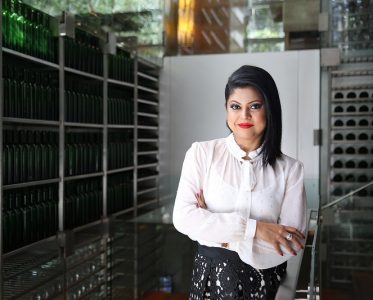 The most influential personality in India's luxury industry
An award-winning broadcaster, Sonal is a distinguished writer, wine judge and an in-demand international speaker with diversified entrepreneurial ventures in wine & beverage education, consultancy, club, awards and retailing. A domain expert on the business of wine, saké and spirits in India, Sonal is passionate about drawing global attention to the country's young and exciting beverage industry. Her vast cultural knowledge has made her a sought-after strategic consultant to international brands seeking a foothold in India's complex marketplace.
ACCOLADES
Sonal Holland MW has a unique voice that combines her position as India's foremost wine voice, a pioneering wine entrepreneur, an inspiring leader, a role model for women and an opinion-maker on lifestyle and luxury. A thought-leader with access to an extensive network of wine enthusiasts, hospitality professionals, media and trade, Sonal Holland MW epitomises qualities of mastery, luxury, charisma and aspirations; and is often sought-after by AlcoBev companies as their brand ambassador and spokesperson.
Since the day she embarked on this journey, Sonal has been a role model for women, shattering the glass ceiling in the AlcoBev industry in India. Her exceptional contribution to India's wine industry has been widely recognised. Some of the prestigious honours Sonal has been part of are:
Top 50 Most Powerful Women in Indian Luxury for five consecutive years—2015, 2016, 2017, 2018, 2019 by luxury business magazine Blackbook
Top 100 Most Influential People in Indian Luxury for four consecutive years – 2016, 2017, 2018, 2019 by BlackBook
Top Women in Wine by the Indian Wine Academy, every year since 2015
Wine Personality of the Year' award by India's leading food writers' association, the Food Bloggers Association of India (FBAI)
Award for exceptional contribution to India's alcobev industry by Rotary International, in 2019
Innovative Woman of Substance Award 2019 at the India Leadership Conclave