FB: Salome V.
Instagram: salome_vvv
Caring about national and world cultural heritage
Journalist, brand ambassador of Château de la Mothe-Chandeniers (France, Loire Valley). I head the branch of the European historical real estate agency VIP CASTLE (Castles and palaces for sale and for rent) in Ukraine. I am a member of the team of the world's first project to revive castles and turn them into unique objects of the international level World Castles Ambassadors (WCA).
In 2020 I was in charge of the international project "BOOKS SAVE CASTLES". Reviving the tradition of castle libraries, I organize cultural social events that bring together artists, historians, designers, hoteliers, tourism industry workers, winemakers, sommeliers, businessmen, philanthropists, etc. Together, we support and increase the culture of world heritage and try to make our world a better place.
Being an expert on Michelin star restaurants (I have been studying and visiting restaurants of the world with haute cuisine for 8 years), I am writing a book about Michelin and enogastronomy.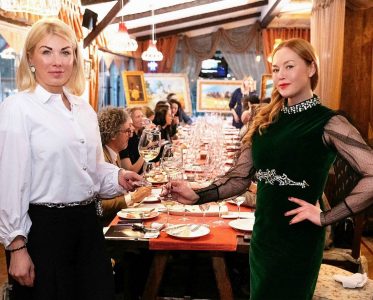 The World in My Lens
My main hobby – traveling – has grown into the meaning of life. I am the founder of "The World in My Lens" company, I have visited 46 countries, I have a huge travel experience and now I do it professionally:
create author's trips to Europe and Asia; especially specializing in exclusive travels to Paris, the Côte d'Azur, Provence, Champagne wineries, Burgundy and Beaujolais.
provide travel advisory services.
develop exclusive programs: gastro tours, locations for photo shoots around the world, accompaniment to Michelin restaurants and consultations on Viennese balls.
My main goal is to inspire people
I am passionate about wine and good food. I got a diploma of a wine expert from a branch of the London International School WSET Level 2. Books, history, art, opera, antiques, education are my elements. All of the above led me to journalism. I want to share information and knowledge with as many people as possible.
I have written periodical articles on travel and wine for many years for such magazines as Yana Luxury Travel, Sea Trial (International yachts magazine), TOUCH, Boryspil magazine, Business Zavarnik magazine.
At the moment I am an ambassador of Business Zavarnik magazine, and for exactly one year now I have been publishing articles about the culture of wine and winemaking, about travel and the gastronomic culture of different countries of the world, so with full confidence I can call myself the Author of the Year.
According to Miss Elegant Travel Ukraine 2019, I entered the TOP-100 successful women in the Kiev region. For many years of contribution to the development of cultural relations between Ukraine and France, in 2021 I was awarded the international Order of Queen Anne, Princess of Kiev, Queen of France.
So, I invite you to conquer the world with me. My main goal is to inspire people.