blog.sofias@yahoo.com sopikonikabadze@gmail.com
Instagram: sofiasblogsmallwinery
Who am I?
I`m Sofia Nikabadze, a wine blogger. Wine is my hobby and I travel a lot around Georgia to discover some interesting small family cellars and introduce them to wine lovers. I have been interested in Georgian wine making for 8 years. I graduated from the Wine School and Studio KabisToni "Wine Connoisseur" and the Georgian Wine Guild "Wine and Grape Origin Alcoholic Beverage Tasting". 
Today in Georgia, it is an era of wine renaissance: there are new wineries, the attitude towards Georgian wine is changing, more and more foreign experts, wine connoisseurs or consumers are interested in Georgian wine. All of this is thanks to the fact that Georgian wine finds its proper place in a big family of world wine.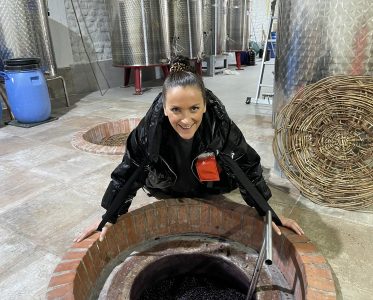 Why should you choose Georgian wine?
Our country is bound up with a wine culture of 8000-year history. The oldest wine vessels in the world were founded there, and Georgia is considered the motherland of wine. The Georgian traditional method of making qvevri wine was awarded the status of UNESCO's Intangible Cultural Heritage in 2013. The world's first cultural vine is located in Georgia. In Kvemo Kartli, several thousand years old vines have been discovered (the grape variety Vitis Vinifera Sativa). More than 500 Georgian varieties of cultivated vines have been described in Georgia: about 430 varieties are being preserved in the vineyards of state and private collections.
Why Kakheti?
Kakheti is the main viticulture and wine-making region in Georgia. High-quality European and Kakhetian traditional wines are made from grapes grown in Kakheti.  
There is no analogue to Kakhetian wine-making technology in the world. It includes crushing grapes in a winepress and pouring the sweetness (brags) into a qvevri. After exhaustion, the full amount of chacha and clair is added to the sweetness of the grapes placed in the qvevri. After the end of alcoholic fermentation, the chacha begins to sink and the qvevri are closed, and after lactic acid fermentation, the qvevri are hermetically sealed. 
There is 18 sort of local wine are producing in Kakheti: Tsinandali, Gurjaani, Vazisubani, Manavi, Kardenakhi, Tibaani, Kakheti, Kotekhi, Napareuli, Mukuzani, Teliani, Kindzmarauli, Akhasheni, Kvareli, Khashmi Saperavi, Akhmetis Mtsvane, Tsarafi, Akhoebi, Magranis Kisi.
Kakheti wine is distinguished by high extraction, high content of phenolic compounds and tannins, pleasant bouquet, varietal aroma and taste.