Lugar da Charneca, 4960-010 Alvaredo, Portugal
+351 251 416 769
In the heart of the mountains
Located in Monção & Melgaço (Portugal's northernmost territory), in the Minho River valley, it is protected by a range of mountains that create the conditions necessary – temperature, hours of sunshine, rain – for the best ripening of Alvarinho grapes. 
Soalheiro started in the family's garage in 1982, and the winery took the place of the family's red Ford Escort. Today, we are exactly in the same place, at the center of the Alvarinho valley – we modernized our winery to a more eco efficient building with a natural cover that allows us to save around 26% energy a year. Our tasting room is on top of our winery and has an impressive panoramic view of our Territory.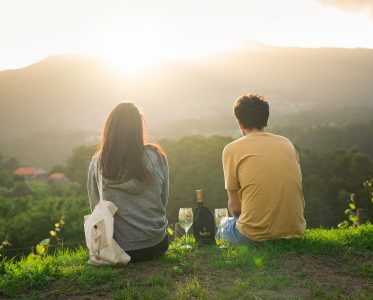 A pioneer of Alvarinho
Soalheiro, a pioneer in the creation of Alvarinho wine in Melgaço, is an international benchmark for the wines of this grape variety, blending perfectly into the distinctive Minho landscape surrounding it. In the nineteen seventies (1974), a passion for winemaking led João António and Palmira Cerdeira, with the support of the parents, to plant the first Alvarinho vine in Melgaço, 1974, which would give the name, in 1982, to the first brand of Alvarinho in Melgaço – Soalheiro. Today the company is run by the third generation, siblings António Luís, winemaker, and Maria João, vineyards and herbal teas manager, with help of their mother, Palmira. 
Tastings: from wine to herbal teas
We offer many ways to discover our region and its traditions. One can join us for a private wine tasting and tour of our first vineyards, a gastronomic journey through Minho cuisine, or even a tasting of local herbal teas, a unique part of our culture. We welcome our guests at our winery (Soalheiro), herbal tea garden, where Casa das Infusões, our rustic accommodation is located, or Smokehouse (Quinta de Folga). We try to offer an experience of our territory with no borders – the Minho River, the only Portuguese National Park and UNESCO's World Biosphere Reserve, a unique and familiar wine culture – so we have developed a bag with a fabric made by Alvarinho grape residuals, where one has wine and a sleeve that will keep it fresh, local cheese and glasses in order to experience Alvarinho freely in any corner of our beloved region. We are open every day and we make visits in 4 languages – Portuguese, English, French and Spanish.