village Tsinandali, Telavi Municipality, Region Kakheti, Georgia
+995 551 08 04 01; +995 599 15 25 85 tourism@shumi.ge; shumi@shumi.ge
"The best wine" of Georgia
Georgia is often called the birthplace of vines and wine. In 2013, UNESCO registered the Qvevri winemaking method on its List of the Intangible Cultural Heritage of Humanity. And then – more than 500 Georgian aboriginal grape varieties… This is the environment from which the SHUMI comes.
"SHUMI" means "the best wine" in ancient Georgian. A 1.5 hours drive from the capital, in the beautiful and historically famous part – Kakheti, the Shumi winery was founded in 1997. It borders the National Park-Museum of the Georgian princes Chavchavadze. The territory at different times belonged to the Georgian and Kakheti kings, the family of Alexander Chavchavadze himself, and then was the summer residence of the Russian emperors. The Shumi winery is a continuation of the traditions of the 8000-year history of Georgian viticulture and winemaking.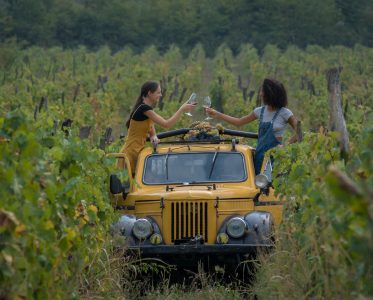 Offering wide range of wines
The company offers guests original packages of vertical tasting, combining a wide range of popular white and red wines, exclusive lines of wines and spirits that have no analogues in the world.
The best examples of this are: Kvevri ice wine and Kvevri sparkling wine. However, it should be noted that in the production of wine, great attention is paid to viticulture and its agrotechnology, which is the basis for the production of high-quality wines. Shumi wine combines ancient Georgian traditional and modern viticulture and winemaking technologies, including varieties, technology called biodynamics, and biowine. In this regard, the company offers the wine made by traditional Georgian Kvevri method, and then aged in barrels of French oak. All of them can be tried in the cellar, in a friendly environment. Collect memories! A great discovery awaits you!
Walking through the historic past and an unforgettable day!
Shumi Winery offers guests an unforgettable day in a tourist complex that has no analogues in the world. 38 locations – infrastructure in the same space offer the guest an educational tour that allows you to get acquainted with many samples of Georgian culture:
Beautiful vineyard planted in the wild, in historically well-known microzones controlled by the appellation of origin;

The largest gene pool, numbering up to 1300 Georgian and introduced wines, presented on the vineyard collection "Shumi";

Wine Museum "Shumi" with ancient exhibits of Georgian viticulture and winemaking;

Walking around the courtyard of the statues, where the mythological heroes works of Georgian famous sculptors are presented;

Georgian alphabet with 14 centuries of history;

Georgian historically Frescoes – painted with well-known red grape vines "SAPERAVI";

Listen to Georgian polyphonic songs;

Taste Georgian dishes that are mainly made from endemic Georgian vegetables, plants and wheat.

Culinary master-classes: baking a Georgian bread with a flour of the old aboriginal  variety of Georgian wheat – "Tsiteli Doli";

Georgian sweet "Churchkhela" production made by patented Shumi technology;

Original dishes prepared with alcohol ZIGU;

Various Georgian ceremonies;

Planting famous vines at the collection vineyard, Lazarus Ritual, etc.