Shukhrat Khakimov & Viticultores #12
Sustainability is the mission
"SHUKHRAT KHAKIMOV & VITICULTORES" introduces special Freaky & Crazy wines, such as garage wine, natural wine without sulfites, non-commercial indigenous varieties, ancestral wines, biodynamic, etc.
SK&V is an association of winemakers, oenologists, people who are passionate about wine and everything related to it. The main winemaker is our CEO and Founder Shukhrat Khakimov, he is from Kazakhstan and moved to Europe when he was a student. He graduated Groupe Ecole supérieure d'Agriculture d'Angers (Groupe ESA) in France, Universidad Politecnica de Valencia (UPV) in Spain and Università Cattolica Del Sacro Cuore (UCSCP) in Italy. All the studies were related to viticulture, oenology, wine, vine and terroir management. After graduation he decided to stay in Spain and start his own story with support of friends and family.
Our goal is to produce non-conventional wines from the unique vineyards of autochthonous varieties in different areas of Spain (mostly Levante). We take care of the vineyards in a natural / biodynamic way, all the processes are carried out manually and all wines are vinified naturally.
At the moment we produce 5 brands of wine: 031/TEO, GGaspi, La Bella Ancestral, Villana Llevame al huerto and Orange.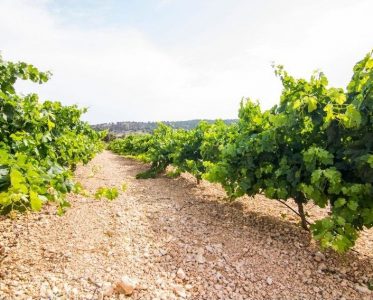 031/TEO – first wine project, a reflection of a new generation
Our first project is 031/TEO. The name comes from the name "TEO", the first son of our founder and winemaker Shukhrat Khakimov. If you turn the name over, you get «031». The labels for this wine were made by Teo – these are his real drawings that we adapted for our wine and now the art of a young talent is traveling worldwide! 031, a wine created by nature as a reflection of a new generation, free from prejudice, full of energy and connected with the natural world, without losing touch with the traditions of their ancestors.
First project of natural wines
It's our first project of biodynamic / no added sulfites / natural wines from Planes, Alicante. We are talking about little parcels of Alicante Bouschet, Viognier, Cabernet Sauvignon, Garnacha Tintorera. All plots are cultivated in SECANO with no irrigation by the human only from the rainfall. We are located in EL COMPTAT, in the north of the province of Alicante.
Freaky & Crazy non-conventional wines
Our second wine was inspired with Burgundy wines, it is a Biodynamic Garage Wine made in Onteniente (Valencian Community). We use alternative production methods; eco-winemaking and we have restored to non-radical biodynamics with a minimum sulfite content (3 times less than allowed by the regulations). This project is about 5 wines that come from different «parcelas» Tierra Blanca, Tierra Arenosa.
Variety Moravia Agria was always the "Cinderella" of La Manchuela. For many years it has been criticized and was not considered suitable for obtaining quality wines. We believed and trusted in her possibilities and abilities, and for this reason, we devised this organic, vegan, natural rose (without added sulfites).
By now the only wine that we produce in France! This orange wine was created using natural fermentation with wild yeast giving the wine a creamy and soft taste. Semillon was harvested on the vineyards aged for 40 years on limestone soils. Garage wine, biodynamic, minimal intervention, wild yeast and skin contact for 40 days.
Villana ("llena de vida") is not like others, she is free and rebellious! We carefully hand-harvest the rare grapes of Tardana at our old "parcelas". The wine is as seductive and unpredictable. The admirers of Villana willingly ask to "llevame al huerto" that is "take me to the garden" so they can meet what they love in the rich palate of the wine, the aromas of Villana can take away but you never know what expects you in the aftertaste.
Even though Shukhrat Khakimov & Viticultores is very young (founded in 2017). We already got some inspiring achievements such as high scores from one of the most popular guides in Spain Guía Peñin:
| | |
| --- | --- |
| GGaspi Tierra Arenosa Monastrell | 92 |
| GGaspi Tierra Blanca Monastrell | 90 |
| GGaspi Tierra Gravas Monastrell Rosado | 90 |
| TEO Blanco Joven | 90 |
| TEO Blanco Maceración | 90 |
| GGaspi Tierra Blanca Macabeo Orange | 88 |
| La Bella Ancestral | 88 |
| 031 Tinto Joven | 87 |
| Ggaspi Tierra Blanca/Roja Macabeo | 87 |
| 031 Tinto Barrica | 82 |