SHABO's wine culture center #146
Ukraine, 67770, Odessa Region, Belgorod-Dnestrovsky District, Shabo village, Shveytsarskaya Street, 10
+380 48 7000 210
Presenting Ukraine's 2000-year-old history of winemaking
One of SHABO's important social projects is the Wine Culture Center established in 2009. Its goal is to give everyone the opportunity to personally see where noble drinks are made, and to feel like being a part of Ukrainian winemaking.
The bicentennial Swiss cellars, contemporary art objects, museums, cinemas, a musical fountain, production and professional tastings of wines that have been conquering the world: this is a whole range of experiences and tastes, which are available here. And, here, everyone can appreciate the achievements of the Ukrainian winemakers.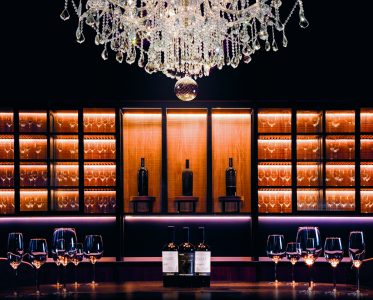 Telti-Kuruk - indigenous grape variety
The area of vineyards is 1,200 hectares, where more than 20 varieties of grapes are grown from the best nurseries of France and Italy. Along with traditional European and Georgian varieties, there is also a purely local one – Telti-Kuruk, which was brought by the Ottoman Turks. In SHABO, the oldest and largest plantings of own-rooted Telti-Kuruk have been grown from mother vines since 1972. It is from this variety that the first wine of Controlled Designations of Origin was created in Ukraine.
What can one discover at the Wine Culture Center?
The amazing House of Sparkling Wines. This is a historical object, which was completely restored in 2013. In its exterior design, brickwork with an ancient history is used. In 2016, SHABO's House of Sparkling Wines won the architectural competition for commercial buildings. Here, the winemakers from SHABO company produce the best sparkling wines of Ukraine (according to two Charmat technologies and the classic method of champagnization in bottle). The best equipment, laboratory, huge acratophores, and Gyropalette: absolutely everything is open to our visitors.
House of Cognacs. Since 2005, the company has been producing cognac and brandy, and since 2013, Shabo's grape vodka, which was created using the exclusive technology.
Department of micro winemaking with the best equipment in Europe. It produces premium wines using the best technologies in the world.
Qvevri Hall. Our guests can see how unique wines are made according to the Kakhetian technology, which is more than 8 thousand years old (it is included into the UNESCO Intangible Cultural Heritage List). To ensure this, we brought 15 qvevris (special amphoras) from Georgia, made by a distinguished family … We had to wait in line for about a year to have the qvevris made by them.
Exclusive wine hall. It contains a family collection of Great Wines, which SHABO has been creating for over 13 years. This is the gold reserve of Ukraine: unique wines of the best harvest years, from selected grapes of the best micro-sites of our terroir. Wines that are the only ones in Ukraine and have received the status of controlled appellations of origin (analogous to the French Appellation d'Origine Controlee). Among them, for example: Ukrainian SHABO Cabernet Sauvignon 2014, which entered the TOP-5 of the best in the world, not losing to the famous Château Margaux. This hall is also a special tasting room, where you can buy a small wine cell and be able to store your wine in it for 10 to 50 years. Each of our clients will soon be able to use their phone to check the temperature and humidity in the cell, whether everything is in order with the wine. If a client wants to pick up a wine for an anniversary, wedding or just to celebrate a regular Tuesday, we will deliver this bottle the very next day to any location whatsoever in Ukraine.