Koutsi, Nemea, Peloponnese
+30 2746020360 info@semeliestate.gr
Semeli: state-of-the-art - wine-of-the-art
Founded in 1979, with deep roots in time-honored winemaking traditions and eyes on the future, Semeli Estate produces wines of exceptional quality.
The sunny Mediterranean climate and the extraordinary terroir, combined with the expert craftsmanship of our winemakers and the successful blending of indigenous and international varieties, result in wines of distinct character that have earned the respect of experts and captured the hearts of wine lovers worldwide.
Its privately-owned hillside vineyards span 8 hectares surrounding the winery, while another 40 hectares are grown by affiliated local winegrowers. This allows for continuous quality control throughout the growing season – an absolute must for consistently producing great wines.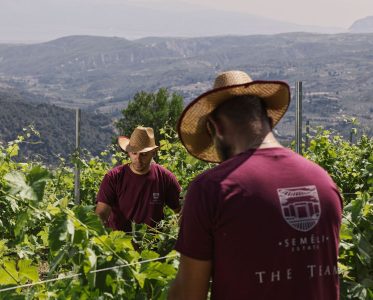 The winery and terroir
The state-of-the-art 4,200m² facility in the Nemea wine making area, which can produce up to two million bottles annually, is a benchmark winery at a national level both in terms of innovative layout and excellent services.
Designed with respect for the natural environment and built on a vineyard-covered hillslope with a long reputation of producing vintage grapes, the Semeli winery reflects our holistic approach to modern winemaking. The Semeli-owned vineyards and those grown by affiliated winegrowers span more than 120 hectares
in the PDO areas of Nemea and Mantinia, as well as in other parts of Peloponnese.
The core principles
To ensure the best grape quality possible, Semeli's owned vineyards are currently in the process of transitioning from conventional to regenerative viticulture.
In the next five years Semeli Estate plans to double its company-owned hectares and develop ideal terroirs for the cultivation of well-known Greek and international varieties, as well as rare indigenous ones,  which will produce unique single vineyard / single cru wines of exceptional quality. 
The core principles we adopt as a company are those of ensuring the least intervention to the natural balance of the environment, whilst promoting its protection wherever possible. 
These principles permeate all the estate's activities from the production of the grape to the export of the product, through to the manner in which its personnel are trained to interact with business colleagues, and to provide the product of wine tourism. 
The Winery is proud to claim a neutral carbon footprint, as proof of its contribution to tackling climate change. They invest continuously in modern facilities and processes, with an emphasis on energy efficiency. They operate a state-of-the-art cleaning and waste management system for their waste. 
One of Semeli Estate's primary goals is to fully realize the Nemea vineyard's potential and in so doing support the local economy. 
Apart from hiring exclusively from the surrounding communities, the company also supports neighboring growers by either advising them on the cultivation of grapes or by rewarding their efforts to produce high quality grapes through fair pricing.
Moreover, its growth will be driven by its outstanding human resources along with its long-term relationships of mutual trust with customers and suppliers.
Wine
Without exception, all wines are of exceptional quality and their own unique character. This is a brilliant selection of works of wine art. No wonder the brand's export program is to more than 20 countries, including the USA, Australia, Japan, Canada. And yet, in the assortment, WTA experts would single out several favorites:
SEMELI ELIXIR – Dry White Wine, Gewürztraminer, Protected Geographical Indication Arkadia. Translucent golden-yellow color with green highlights. Attractive and seductive on the nose with ripe white-fleshed fruit, such as Comice pears and exotic fruit on a floral backdrop, with violet and jasmine making a bold statement.
SEMELI 'THEA' MANTINIA – Moschofilero from PDO Mantinia and from a single 25 year old vineyard at an altitude of 650m. On the nose complex aromas of herbs, ripe dried fruit, such as papaya, mango and yuzu, and hints of green fruit. In the mouth the full body and crisp freshness dominate, supported by aromas of bergamot, citron and yuzu, with a very subtle sweet aftertaste.
SEMELI AETHERIA – Malagousia and Chardonnay. From selected vineyards in the high-caliber upland Aegialia wine region at an altitude of 900m, a blend of locally grown Chardonnay and Malagousia, whose extraordinary flavor makes it one of the most aromatic Greek cultivars.
SEMELI NEMEA GRANDE RESERVE – Agiorgitiko PDO Nemea. Bright, deep garnet, with intense viscosity. Ripe red fruit on the nose that illustrates the character of an age-worthy Agiorgitiko. A long aftertaste, full of volume and flavors of chocolate, marmalade, toasted bread and cinnamon.
Taste Semeli Wines
SEMELI SPONDEE – The latest addition to Semeli's line-up, SPONDEE 2016, a Syrah, Merlot and Cabernet Sauvignon blend from select vineyards, has aged for 12 months in the winery's cool cellar. Elegant and complex in the nose, with the aromas of all three varieties expressed in a firm and perfectly balanced way and without a single one of them outshining the rest.
Dry Rose Varietal Wine – SEMELI DELEAR
Syrah & Grenache Rouge. Salmon-colored with gorgeous garnet highlights, this is a bright, crisp rose with a clear and straightforward nose. Fruity with hints of pomegranate, cherry, watermelon and passion fruit.