drinksandestinations@gmail.com
+919821766706

Wine & Spirits Columnist, Blogger and Influencer
Rojita Tiwari is an award-winning drinks professional who began her career in the drinks industry in 2006. She is a beverage writer, educator, consultant & certified juror at several international wine & spirits competitions. Rojita is the recipient of the Most Influential Food & Beverage Industry Professional Award 2020, Indian Achievers "Top 40 under 40" Award 2020. She has been listed twice as the "Top Ten Women in Wine in India" by the Indian Wine Academy. Rojita was recently featured on 94.3 Radio One's show "She Slays" with Annie. 
She contributes to several international & Indian publications such as Drinks International, Rumporter, Spiritz, Sommelier India, Luxebook, Luxury Launches, and other drinks websites. Her column, "Tipple Tales" appears on the TravelDine website every month.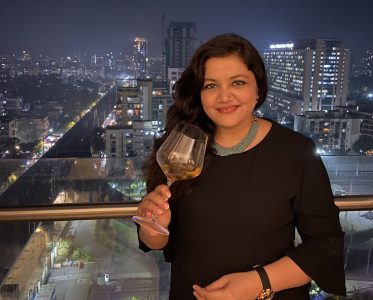 Founder & Editor – Drinks & Destinations
Her company, Drinks & Destinations, established in 2004, is a leading wine & spirits content and strategic brand consultancy firm in India offering marketing, brand building, promotion, and social media marketing services to drinks brands. The company also co-curates two consumer wine and spirits event properties, a drinks festival called 'Agents Of Cheer' and a specialized wine dinner series called 'Story In A Bottle' besides, offering consultancy and marketing services to liquor companies.
Teaching and judging activities
Rojita is also instrumental in introducing a new category of spirit in the country (Baijiu) and worked as the Brand Ambassador for JIANGXIAOBAI until May 2020. She joined International Drinks Specialists, a UK-based consultancy firm for wine, beer, and spirits companies, as a Senior Specialist representing India in March 2021. She is the Mentor for the Global Wines, Spirits & Cigars Committee at Della Leaders Club. As an educator, she regularly teaches and trains hotel and bar staff and students at bartending institutes. As a drinks judge, Rojita has been a juror at several international wine and spirits competitions such as: Concours Mondial de Bruxelles, Spirits Selection, Sake Selection, International Sugarcane Spirits Awards, etc.
Rojita has also been on the jury-panel of several international bar awards and cocktail competitions like the Corralejo Tequila Cocktail Competition, Bacardi Legacy Contest, Beluga Cocktail Masters India, and Campari Bartender Competition Asia. 
Read more on a journey to explore two interesting wine regions in Italy here:
Wines of Calabria, Italy – With stunning locales, diverse landscapes, and a unique combination of terroirs with a history of wine production dating back to the 8th century, there is much to learn about Calabria, and a week in this southern Italian region is not enough.
A journey through the wines of Marsala & Passito di Pantelleria – From the plains of Marsala to the arid lands of Pantelleria, the diversity makes Sicily an island of paradoxes. Here's your ultimate guide to the fortified wines Marsala and the unique Passito di Pantelleria.