The path from an amateur to a professional wine writer
Per Karlsson has been communicating on wine for a long time. At university, in his early 20s, he edited a wine newsletter for a wine tasting club of which he was also president. In 1996 he launched, together with his wife, the first wine web site in Sweden, equally one of the very early wine sites on the internet globally. The couple went on to launch one of the early wine blogs that with time morphed into an online magazine.
Having been an amateur wine lover ever since his youth, he created in 2004, together with his wife Britt, BKWine AB, a company focussing on wine writing and on organising wine tours. It has since become one of the world's leading wine tour operators.
Today, he is writer, journalist and editor-in-chief at BKWine Magazine, an English-Swedish bilingual online wine magazine widely read all over the world, with a monthly newsletter called the BKWine Brief. 
Since 2015 he has been a regular contributor to Forbes.com on wine.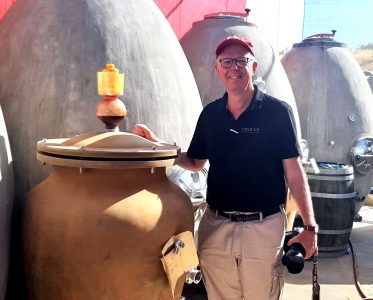 Wine is the main subject of books by the Karlssons
He has also co-authored 11 books on wine together with Britt Karlsson. The subjects range from technical, for example winemaking and wine growing, over regional wine and travel guides to wine course literature. The books have been awarded numerous literary awards, Gourmand International, OIV-International Organisation of Wine and Wine, the Swedish Gastronomic Academy and others. 
The latest books
One book has been published in English ("Biodynamic, Organic and Natural Winemaking: Sustainable Viticulture and Viniculture"; the others are in Swedish. The latest book, The Wonderful World of Wine ("Vinets underbara värld"), published in September 2020, is an in-depth introduction to all things wine: wine countries and regions, history, grape varieties, wine and food pairing, wine tasting etc. It is both a course textbook and a book for any wine lover who wants to know more about wine.
Per is also a photographer specialising in wine and travel photography. His pictures have been published in magazines and books all over the world, as well as in the Karlssons' own books and articles.
Travel with BKWine Wine Tours
Per also runs BKWine Wine Tours, together with Britt Karlsson, a long-established international wine tour operator, soon in its 20th year. 
Travel takes up a good part of a normal year, usually with around 20 trips to different wine regions and some 200 different wineries visited in a year, across Europe, South Africa, Asia-Australasia and South America.
Based on this extensive wine travel experience Per has been a speaker at wine tourism conferences, for example organised by the United Nations World Tourism Organisation, Vinitaly and Citta del Vino, and has worked as a consultant on projects to develop wine tourism. 
Over the years, Per has covered a wide variety of wine-related subjects, but he mainly writes about the stories behind the wine (rather than tasting notes), and about the business of wine. He has also written extensively on wine tourism and on how wine regions and wineries can develop this activity. His background, which is a combination of science and business, with a theoretical physics degree and an MBA from INSEAD, gives him a somewhat unusual perspective on the wine sector.