An Iranian woman in Emilia Romagna
Living in Maranello, a town in Emilia Romagna, has afforded Nikan Jooyani with numerous opportunities to explore the region's rich viticultural and culinary heritage. The region's viticulture has flourished thanks to the hard work and sacrifice of its winemakers, as well as the economic benefits of once-upon-a-time mass production. It's one way to believe in destiny, it would make perfect sense as to how Nikan, as an Iranian woman, ended up in Emilia Romagna. Until then she had cooked Persian food which is multilayered both in content and taste combining saffron, turmeric and cinnamon but her culinary experience was mono dimensional and Italy, especially Emilia Romagna taught her every dimensional aspect. "Less is more"  is immensely important to Emilians, this quote is particularly important to sommeliers world-widely who should be able to pair wines with food. Emilian cuisine offers endless opportunities for wine pairings, both with local and international wines. One of the beauties of wine is its ability to bring people together  and encourage them to explore and evolve their tastes.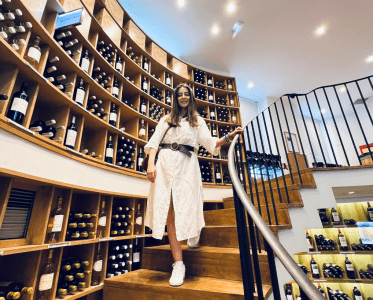 Pursuing Excellence in Wine and Spirits
Nikan's passion for wine and spirits led her to pursue FISAR and AIBES (Associazione Italiana Barmen e Sostenitori) certificates and fuelled her desire for excellence. With an unbridled commitment to the Court of Master Sommeliers, she is determined to climb to the top of the mountain, despite the challenges that lay ahead. While it has been intimidating, Nikan  knows that she has the heart and mind to reach her goals. Her journey has been marked by several milestones, including being awarded scholarships from the Gérard Basset foundation for both the Golden Vines Diversity/Wine Scholar Guild and the Golden  Vines/Hennessy Family, which gave her hope and strength to continue pursuing her dreams.
Emilia Romagna's Rich Viticultural and Culinary Heritage
There are many examples of Emilian Winemakers who have put effort and dedication to this path such as Giuseppe Bellei, the pioneer of Emilian Metodo Classico. Bellei fell head over the hills with champagne in the 1970s and used to go for new finds in the mentioned French region. He mastered every aspect of a  traditional method of sparkling wine production. Back in Emilia Romagna, at his grandfather's winery in Bomporto, Bellei replicated the production line from terroir, clones to corks, labels  and capsules. 
Podere il Saliceto, a small winery in Emilia Romagna, has a remarkable story of success. In 2004, two young men started  their sparkling wine making journey on nickels and dimes.  Despite the odds, they persevered and poured all their passion and dedication into their craft. Through years of hard work, experimentation, and collaboration with other winemakers in the  region, they have now become one of the most respected names in  the wine industry. Their story is a testament to the power of  persistence, creativity, and a relentless pursuit of excellence  in winemaking. 
Another example of excellence is Alberto Paltrinieri who founded the most rewarded Emilian wineries. He developed his wines largely with indigenous grape variety, Sorbara. Using Traditional Method, Ancestral Method or Tank Method, he has been  able to highlight Sorbara potential and quality. 
Modena is the unlikely birthplace of la Francescana, which was named the best restaurant in the world for two years running. Each of Massimo Bottura's dishes tells a story and  incorporates traditional Emilian ingredients and techniques. 
The rich history of wine making of Emilia Romagna has produced a wine that's gastronomic in nature. Indeed the delicate red berry fruits aromas of sparkling Sorbara DOC are  perfectly complemented by the rich, savoury flavours of  tortellini stuffed with aged Parmigiano Reggiano and Prosciutto  Crudo. Le tagliatelle al ragù bolognese would not go far if there was no glass match of juicy elegant Sangiovese of Colli Bolognesi DOC denomination.