Ente Turismo Langhe Monferrato Roero, Piazza Risorgimento, 2 - 12051 ALBA (CN)
info@visitlmr.it
19km: Mango – Camo – Mango ring trail
The route is tracked by Neive Trail Yellow/Golden Grape Bunch signs affixed on trees or vineyard poles. The Moscato Wine Route starts in Mango from Piazza XX Settembre. After having descended among vineyards, the trail gets to the valley bottom and crosses a tiny brook along a bridge. Here is the province road in Sant'Ambrogio. After having reached the ridge, it descends along the opposite side, crosses a grove of reeds and skirts a vineyard. On the vineyards left side, the trail enters a path to take hikers to a hazelnut grove, along the signs to Camo, through Riforno hamlet. The trail ascends to get to a hilltop to make hikers enjoy wonderful sightseeing. Then it enters a dirt road until it comes into the province road before getting to Dornere hamlet. From this hamlet, the path toward Camo is partly inaccessible because of landslides. Hikers can choose to access a smoother trail to get to the village along the province road.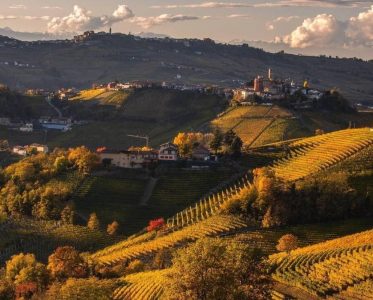 Museo a Cielo Aperto and Santuario della Madonna della Rovere on the way
After having got to the village and enjoyed the Museo a Cielo Aperto (Open-Air Museum) and its contemporary art installations, hikers can immerse into vineyards, descend and skirt Belbo brook. At the end of the valley bottom the trail ascends to take hikers to the Santuario della Madonna della Rovere, a sanctuary dedicated to Our Lady – the perfect place to have a rest. The trail goes on along a paved road and then along a gravel path, up to the ridge from which a steep dirt road gets to the wood. The tiny path ascends and gets to a ridge offering a breath-taking view on the surrounding hills, tidily cultivated with vineyards. It finally ascends straight to Mango village.
Langhe Monferrato Roero, a land rich in traditions to discover
Come and meet the producers, taste the wines and listen to their story. Here, even the most demanding palates will be delighted by a paradise of aromatic notes, inebriated by more than 14 DOCG and 18 DOC wines, by oenological masterpieces such as Barolo, Barbaresco, Barbera, Roero, Roero Arneis, Alta Langa, Ruchè, Nizza, Moscato and Asti Spumante, Dolcetto, Nebbiolo, Freisa, Brachetto, Malvasia, Cortese, in their different declinations, but also rarities such as Grignolino, Verduno Pelaverga, Gamba di Pernice, Cisterna d'Asti, Albugnano, Loazzolo, Terre Alfieri.
You should taste the local products of excellence. This is the homeland of the IGP Piedmont Hazelnut, better known as "Tonda Gentile", of cheeses such as Bra, Murazzano, Robiola di Roccaverano, Raschera and Toma Piemontese. 
Truffle hunting is like searching for treasure. It is based on a combination of gestures, a few words and a lot of adrenaline, a perfect human-animal relation, a mutual understanding and harmony between the Trifolao (truffle hunter) and his loyal dog.
Hot air balloon flights – just stop and stand still in awe as you admire the skyline of the nearby mountains from the panoramic viewpoints of the UNESCO World Heritage hills: La Morra, Grinzane Cavour, Canelli, Vinchio or the medieval tower of Neive. 
Langhe Monferrato Roero also provides kilometres of trails dedicated to trekking amongst vineyards, woods, rocks and meadows which are meant to revitalize your body and soul. Whether it is a loop trail or in stages, family-friendly or challenging for well-trained legs, you are heading for a treasure hidden in the trees.