Wine, camera and a talented journalist
Monique Soltani is an award-winning journalist with a double major in Broadcast Journalism and American Studies and a lifetime of experiences sharing stories on and off camera. Monique honed her reporting skills reporting for network affiliates across the country some of which include: KPIX-TV/CBS 5, KSEE-TV/NBC 24, and KPVI-TV/NBC 6. In 2008, Monique first brought Wine Oh! to life once a week on KSEE 24 airing in over 1.5 million homes across California's Central Valley. From 2013-2018, Monique formed and executed distribution deals for Wine Oh TV with Comcast/NBCUniversal, Xumo, TV4, streaming on Hulu, Roku, Amazon Prime Video + International distribution. In that same period she covered Weather + Wine on The Weather Channel and created two humans at the same time (literally). Wine Oh TV has won numerous awards over the years including the Best Drink Show on TV and Online in 2018 & 2019.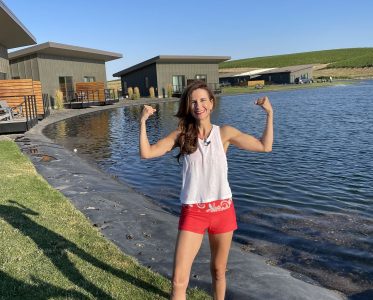 Wine Oh TV
Wine Oh TV is a fun and informative wine travel show that gets to the heart of every wine region. Join the journey as Monique Soltani travels the world bringing people together by breaking bread, opening up a bottle, and connecting through culture.
Loss, grief and returning to wine
In 2018, Monique was shooting a production of Wine Oh TV in Italy when she got the phone call no one can imagine, yet everyone fears. Her husband was alone with their then 2.5 year old twins when he found out he had Stage IV incurable Colon Cancer. Monique stopped production and came home to take care of her family. We lost Mark Erman in July 2019. The 2022 production season of Wine Oh TV is Monique's first post-pandemic production and the first since losing her husband at only 47 years-old to Colon Cancer.
The 2022 production season Monique traveled internationally to Umbria, Spain, France and domestically to wine regions in Walla Walla, Paso Robles, Mendocino and Lodi.
Read more about Monique's Journey in this feature in Forbes.