nvermomik@gmail.com
+374 95 480450
Authentic Wine Travel Experience
Nestled beneath the mountains in the Areni village of Vayots Dzor region, Armenia, the family- owned Momik Wines (or Momik Wine Cube) offers an immersive and authentic Armenian wine experience with fine wine, locally sourced food, and khachkar (cross-stone) making master classes. Wine Cube is an innovative wine tourism business model in Armenia: it is an authentic tasting facility in the heart of a vineyard based on the "farm-to-bottle" concept.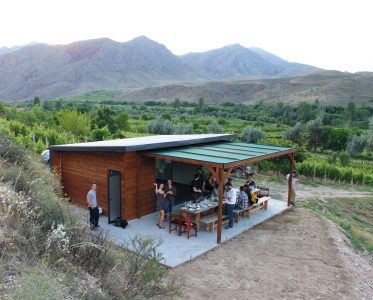 Nver Ghazaryan's family: keeping winemaking traditions
The first Wine Cube, "Momik", is located in the Areni village of the picturesque Vayots Dzor region of Armenia, known for its centuries-long winemaking traditions. 
The vineyard called Momik Wines has been with Nver Ghazaryan's family for more than 40 years. It specializes in growing the endemic Areni grapes that the region is known for which, in turn, produces some exceptionally high-quality Armenian wine.
Wine inspired by Armenian culture
The name of the "Momik Wines" originated from the famous Armenian architect and sculptor, Momik, who constructed the magnificent Noravank Monastery in the 14th-century: the Wine Cube is located near this cultural monument.
"Momik" wines are served personally by the owners combined with local food and accompanied by masterclasses in stone-carving held by Nver's wife Narine. The grapes are grown by the farmer – owner of "Momik" Nver Mnatsakanyan – while the wine production is outsourced to a professional winemaking company.
Cooperation widens the horizons
"We are so grateful to GIZ and all the partners within this large cooperation project – One Armenia NGO, vinification service provider WineWorks, tour operators and other international donors for the contribution and technical support. Thanks to their efforts, we went from selling grapes to having our own brand, Momik Wines, and a tasting room. Of course, my wife and I were planning to expand our vineyard long before this project, but it was GIZ and the partners' support that made it possible for us to achieve the goal we had been working towards for years. Besides, we have managed to increase our homemade wine quality to be able to bottle and sell it in wine stores".