Masakatsu@office-rotonda.jp
www.facebook.com/ikedamasa
Professional path: photojournalist, writer, interpreter
Masakatsu Ikeda was born in 1967 in Tokyo. After working at Kateigaho magazine as an editor, he moved to Florence, Italy in 1998. Specialized in food, wine and cuisine, he works for Japanese magazines, newspaper, web and TV. Since 1998 he published more than 15 books as an author and the latest work is "Osteria Francescana". The first book speaks about Massimo Bottura and Osteria Francescana. Masakatsu is also an Italian-Japanese interpreter of the cooking shows "Italian top chef", as Massimo Bottura, Enrico Cerea and others. Contributing photographer in Getti Image. Director of the web magazine Saporita.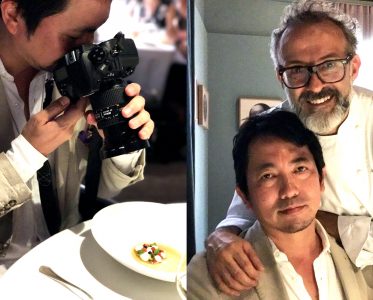 Viaggo enogastronomico = enogastronomic travel
The characteristic of Italy is biodiversity. Italy is one of the most diverse countries in Europe, and wine, as well as food and ingredients, strongly reflects its diverse regional characteristics. Friuli and Sicily have completely different soil characteristics, as Piedmont and Puglia do. The best way to discover such diversity is the enogastronomic travel, where you can travel and taste local food and wine. In today's world of information sharing, people want unknown tastes, food and wine, which is replaced by the word Food Experience. Know the land, know the food, know the wine. I always want many people to experience such enogastronomic travel, and I am doing activities to help them.
Italian wine is joy
I was in Japan in March 2020 when the COVID exploded all over the world. In April, a state of emergency was declared in Tokyo as well, and the world changed completely. Pasta and rice disappeared from the shelves of the supermarket flooded with people, and everyone was worried about the future, but there was one very positive phenomenon. That is the sharp rise in sales of Italian wine. Hard liquor seems better if you want to stay home, but why did the Japanese choose Italian wine? The answer I thought and gave was that Italian wine is a synonym for joy. Drinking Italian wine means surrounding the table with your family and friends, and the moment of unplugging is the moment of joy. Isn't that the reason why people who were in a difficult situation of a state of emergency asked for Italian wine? When I talked about this episode at the Gambero Rosso Tre Bicchieri 2022 Awards Roundtable in Rome in October 2021, many Italian people there sympathized with me. Italian wine is a joy and it is an integral part of the Italian lifestyle that Italians always need.