info@eoswine.guide
Instagram @eoswine.guide
Certified wine professional: everything started from a book
Once upon a time after reading the book "A year in Provance" by Peter Mayle I started to dream to visit that place one day. My dream came true just one year later! I discovered not only the beauty of lavender fields but the existence of rose wine, met a few dozen of great local winemakers and as result, all money instead of spending on Paris shopping at the end of the holiday was invested in one dozen cases of amazing samples of wine (red, white and rose of course). During that unforgettable holiday, I took my first lessons in wine tasting, but as you understood, just intuitively. And just a few years later, again unexpectedly, I found the school in London – it was WSET! And from that moment a real adventure begins! 
Since that autumn, the London course of Level 2 passed four years. At the moment I'm a professional sommelier certified by the Court of Masters Sommeliers, a member of the UK Sommelier Association and a Master & MBA in Wine Marketing and Management. Thanks to the professional course organised by The UK Association of Sommeliers, I learned all the necessary high standards of skills and knowledge that are required for this interesting and not-easy profession in HoReCa. After finishing this sommelier school, I had a chance to work in a Michelin-star restaurant.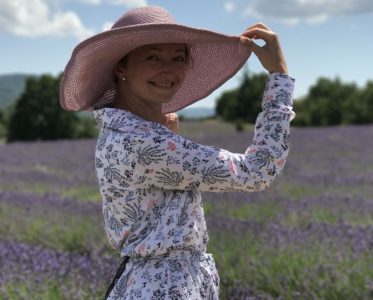 English vineyards and climate change
During my UK period, I travelled and discovered many English vineyards. I must emphasise that they develop a lot during the last 10 years and become profited from climate change. I know it sounds a bit unfair, as a lot of vineyards in the world start really struggling because of the same climate change. This problem is the most important and alarming nowadays. While writing my thesis about "The perspective of WIC packaging" I've learned even more about how we can minimise the footprint of CO2. We are responsible for a clean environment and a green future for the next generations. The wine industry must take part in the global reduction of CO2!
Discovering France as a sommelier and a wine guide
After entering MBA at INSEEC, I left the dynamic life of London, as this business school was based in Bordeaux, France. And again, one more of my dreams came true – I had a chance to visit already as a wine professional many winemakers' Chateau on the left and right banks of the most legendary winemaking region in France. 
As always, lucky enough I received the internship in the next place of my dream! It can be proved by one of my posts on Instagram a few years earlier. There is a picture with a beautiful view of the morning mist in the vineyard. Yes, I had a dream to wake up surrounded by vines in Loire Valley! And this dream also came true in April 2021.
I fell in love with the picturesque landscapes of Coteaux du Layon. I got to know many local winemakers. I've visited dozens of Chateaux of the outstanding Renaissance period. As we know the Loire is also known as the Kings Valley. The Royal family had chosen this French garden not only for building their summer residences but also as a famous wine supplier. 
I learned better the history of France. It happened thanks to my curiosity and the really welcomed few families of Saint Aubine de Luigne that are the owners of the historic chateaus which are UNESCO Heritage. They showed me details from archives about the process of development of the Valley. How were created proper conditions for transporting wine by the Layon River, which is one of the estuaries of the Loire River. They shared with me many interesting facts about the development of the only Grand Cru AOC in the Loire wine region, which  is AOC GC Chaume. I'm also proud to have spent one month with a team of one great winery during the harvest period. I've met a lot of nice people in this area. 
This all influenced my further choice and decision. I'm going to promote this wine region as these peoples' work, their great wines deserve to be more appreciated. I'll be happy to become a personal guide to wine lovers from around the world who find the time and desire to learn about the Loire Valley's history and its wines. I'll show the hidden gems of the AOC's Savenniers, Anjou Villages, Coteau du Layon and Chaume. I'll present the delicious food & wine pairing of locals. And of course, I'll give high-level wine master classes to all wine lovers as well as wine aficionados. That's what I missed many years ago when destiny first brought me to one of the French wine regions.
I'll be happy to share the most amazing and bright journey of my life with all who are open to new discoveries!