Successful career as a journalist, critic and judge
Liz Palmer is an Award-Winning Author, Wine Journalist, Dame Chevalier de Coteaux de Champagne, Wine Judge and one of 2023 Top Global Wine Influencers.
Liz is not only a well-respected award-winning author and wine journalist (since 2004); she also has an international reputation as a critic and judge and has interviewed and tasted with some of the industry's leading winemakers, professors and personalities. Her articles have appeared in Forbes, Huffington Post, China Wine News, Wine Picker Magazine, Beauty & The Bull Magazine, Heart Business Journal, GAM on Yachting, wedding and luxury magazines – both in the USA and Canada.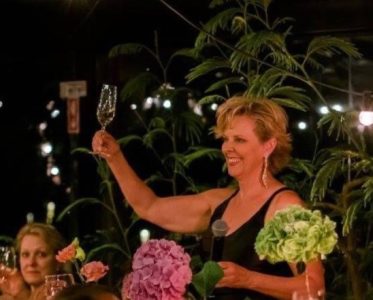 International membership experience
Liz tastes thousands of wines annually at various international events. She is one of four founding international hosts for #Champagne Day 2011-2017; and has served as a judge for the 2013-2017 Global Traveler's Wines on the Wing airline wine competition (New York); 2014-2017 Michelangelo International Wine Awards (South Africa); and for the The Stevie Awards for Women in Business (New York) (2014-2017). Her Memberships include: Wine Writers' Circle of Canada, Circle of Wine Writers (UK), International Federation of Wine and Spirits Journalists and Writers (FIJEV); and Wine Century Club (NYC).
Accomplishments in projects
She has been recognized as one of the "Top 20" Global Social Media Influencers on wine and spirits; ranked Top 1% Industry SSI – LinkedIn. Among her many accomplishments, Liz was awarded the title of "Dame Chevalier" of the Ordre de Coteaux de Champagne, has recently participated as a judge in the 2022 CMA [Canadian Marketing Awards]; is a TEDxToronto Insider, and a Facebook – Business Insights Panel Member. Liz sits on the Board of the Federation Internationale des Journalistes et Ecrivains des Vins et Spiritueux. (FIJEV), and is the founding President of Les Dames d'Escoffier Ontario, and Women in Wine Talks (global online platform). Liz is also the recipient of the 2021 Remy Martin Award (The Cambridge Food and Wine Society of Canada).
Liz's first book, The Ultimate Guide To Champagne, is a novelty in non-fiction dealing with wine culture, which became a great contribution to illuminating the phenomenon of Champagne as a terroir, as a tourist destination, as the world's most famous wine brand. Numerous travels throughout the region, visiting winemakers, restaurants, cultural events and wine tastings formed a basis as well as an inspiration which encouraged Liz to do research, to put into writing her many impressions and valuable experience. The book has garnered praise from numerous influential wine journalists, and other industry peers and has received the National Award for the best French Wine Book at the Gourmand World. On April 7th, 2017 Liz was appointed Dame Chevalier de L'Ordre des Coteaux de Champagne.