https://www.linkedin.com/in/laurahadland/
https://www.facebook.com/extremehousewife Twitter and Instagram: @Morrighani
Telling the story of English wine
Laura Hadland has been volunteering at Rothley Wine and giving wine tasting sessions there for 7 years and she also gives private tastings. She has been blogging and writing about wine for over a decade. Her publications on wine can also be found detailed at Muck Rack as well as her blog. During Covid she has featured the activities of the Rothley Wine Estate through her writing and social media to help bring the story of English wine to a new audience. She has also supported the wine maker, the only employee at the vineyard, by adapting the ticketing system and wine tasting sessions that she delivers there in order to help the micro-business to survive and thrive during lockdown. Laura's unique delivery of these unique English wines has not just promoted sales, but their tastings have received only 5* ratings across platforms in 2020 and 2021.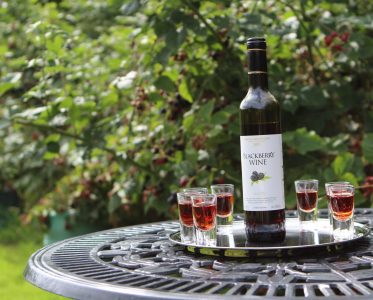 Publications
Еxtremehousewife Laura Hadland has her own style, pure English humour, incredible curiosity, and openness to the world, including the world of wine and gastronomy.
Her book
"50 Years of CAMRA – the Campaign for Real Ale" is a
 finalist for the Gourmand World Cookbook Awards 2022.
It is up for the best beer book in the world against other wonderful publications from Canada, Argentina, Brazil and Sweden.
Wine and enogastronomic routes of Great Britain
She picks grapes by her own hands, takes care of her chickens, and tries to reproduce the various recipes she comes across on the wine and enogastronomic routes of Great Britain.
Here's what she is saying, for instance, about her beloved Rothley Wine:
What better way to understand the mechanics of wine than to volunteer at a vineyard? One of the real privileges has been hosting the wine tasting element of the Rothley Wine public tour and tastings for just over a year now. I get to meet some absolutely fantastic people. Some are hyperlocal – Rothley residents. Some have travelled great distances to come and find out more about Liz's wines. All have proved to be singularly fascinated by the vineyard and what Liz does there and it is my great pleasure to introduce them to wine tasting and to her wines.
Laura Hadland loves to travel, but has a strong focus on the UK wine theme, and expertly accompanies tourists on their travels around the country.