Kristinus Wine Estate #184
8713 Kéthely, Hunyadi street 99
Hello from Florian
Wine and a better future – these two notions combined provide a great basis to any new cooperation. My name is Florian Zaruba, Winemaker and General Manager, please allow me to introduce to you our winery. Walking along the unbeaten path, sharing our passion, curiosity and open-minded approach – since day one, our aim has been farming high quality grapes and crafting exceptional wines in a biodynamic way. Our core value is to prove every day that nature is the better partner, both in the vineyards and in the cellar.
As far as biodynamic farming, we firmly believe that transparency is a key factor. That was exactly the main motive behind our transition in 2018 to become a Demeter-certified winery. Certainly the rockier road, but we wouldn't set our standards any lower. Huge milestones ahead: in the fall of 2021, we will harvest 100% organic certified grapes, thus earning our place in the worldwide family of biodynamic growers, Demeter the following year.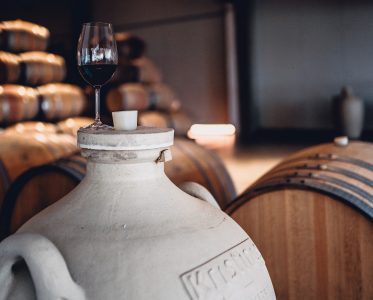 Revealing an experience of place
Each bunch, each berry bears an imprint of a year – our duty is to create an environment where their authentic character can be exposed, as to experience true distinctiveness between the vintages. We strongly believe that human activity should be resonating with nature's cycle, therefore we are committed to make the least possible impact on our environment while growing high-quality grapes and crafting elegant, vibrant wines that truly reflect the sense of our place.
Cellar
The way we farm our grapes outside obliges us to treat our wines in the cellar as gently as it gets with the least intervention possible. We are convinced that our wines would exclusively reach their most unique character when employing spontaneous fermentation (Pied de Cuve), and when keeping any unnecessary additions, like "fining" agents, far from our cellar. We also prefer malolactic fermentation to set in naturally and strive for crafting our wines with a very low level of sulphur-dioxide.
Vintage after vintage, the challenges of making the right decisions for the sake of quality consistency and for the sake of uniqueness inspire us greatly and demand an experiment-centered mindset. In moments of cluelessness, taking one step back and letting nature solve the problem seems to always be the best way to go about it.
Our general goal with the vessels was to minimize their impact on our wines' intensity and character, and to ensure an ideal micro-oxidative environment. The past five years, our main focus has been on amphoras from Hungary, clay eggs from Italy and large, neutral barrels. The cohesion of our Kékfrankos and our 1200 l Stockinger barrels for instance is something that keeps us on the edge of our seat.