A Lifelong Love of Wine
"Which one do you like best?" he asked, with a merry twinkle in his eye. Solemnly nosing the first glass, and then the second, third, and so on, the girl deliberated briefly before giving her verdict. These father-daughter sessions with old Bordeaux, Port, and Burgundies cemented a love for wine that began long before Jacky Blisson took her first heady sip.
Today, Jacky is an independent wine educator, writer, and consultant with over two decades experience in all facets of the global wine trade. She is the first Master of Wine in Québec and one of only ten across Canada.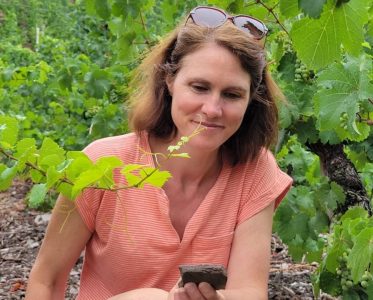 A Globe-trotting Wine Professional
Jacky holds a Bachelor of Arts degree in Communication Studies from Concordia University, Montréal. After a couple of uninspired years in web marketing, Jacky decided to follow her vinous passion and moved to Beaune, France to pursue the Specialized Master's degree in Wine Science. 
During her 11-year sojourn abroad Jacky traveled extensively, tasting widely through out the top vineyards of Europe. She also completed several winemaking harvest seasons in Burgundy and the Walker Bay, South Africa, and worked for almost a decade managing export sales for a Burgundian wine agency and Southern Rhône winery. 
Wine Travels, Jura!
Since returning to Canada, Jacky has built a solid reputation for her high-quality written and video wine education content, and her consultancy work. Jacky also produces a flourishing, self-titled YouTube wine education channel and wine review website. She is a judge for the National Wine Awards of Canada.
In August 2021, Jacky joined forces with Swiss television director Svenn Kuchen to film the pilot for a wine and travel documentary series. The short episode-based series will bring wine lovers to the heart of off-the-beaten track wine regions, to discover their vineyards, wine styles, top producers, and best food pairings. 
Episode one of Wine Travels was filmed in the Jura wine region. Watch now: